Just recently I was chosen by the Foodbuzz Tastemaker's program, along with Electrolux, to host a sleepover.
This past weekend Hannah hosted a gluten-free sleepover for her friends with a "Game Night" theme.  Each girl was asked to bring over their favorite board game to share.  If you'd like to host your own game night, you can use this REI promotional code to buy some new fun games! While Hannah has not been diagnosed with Celiac Disease and does not follow a strict gluten-free diet, she often does eat gluten-free because Jon and I do.  While I wasn't out to "trick" anyone, I did ask Hannah not to inform her friends that the food was gluten-free upfront.  I know how 9 year old girls can be and didn't wanted any preconceived ideas about how the food would taste.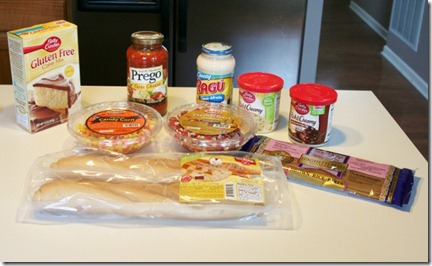 The menu for the party was:
Tinkyada gluten-free spaghetti with choice of alfredo or three cheese marinara
Grilled chicken marinated in Italian dressing
Garlic cheese bread
Yellow cupcakes with triple chocolate frosting (to be frosted & decorated by the girls)
Candy corn/sprinkles
Easy Italian Grilled Chicken
1-2 lbs chicken breast (may cut into chunks, strips or leave whole)
1 bottle of Kraft Tuscan House Italian
Garlic powder
Oregano
Basil
Sea salt & pepper
1.  Trim chicken and cut, if needed.  If you choose to leave whole, pound with a meat tenderizer.
2.  Season with garlic powder, oregano, basil, S & P.  Marinate in dressing overnight or for at least 2 hours before cooking.
3.  Grill chicken on outside grill or George Foreman grill until cooked through.  You could also saute the chicken in the marinade in a saute pan.
4.  Serve along side or on top of pasta.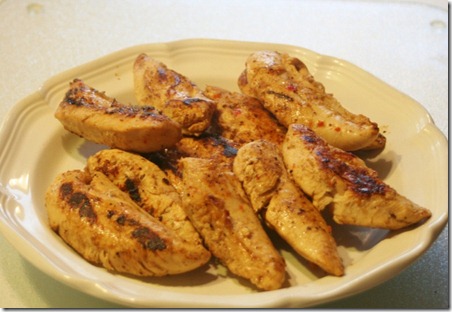 Garlic Cheese Bread
1.  Cut bread in half and lay open.  Spread with butter or spread of choice.  Preheat oven to 400 degrees.
2.  Season with spices.
3.  Bake until bread is toasted & spread is melted.  Top with cheese & lightly broil until the cheese is bubbly & melted.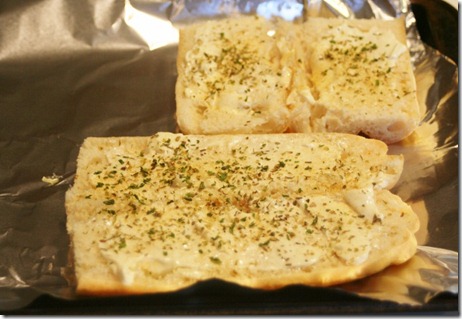 The meal served with three cheese marinara: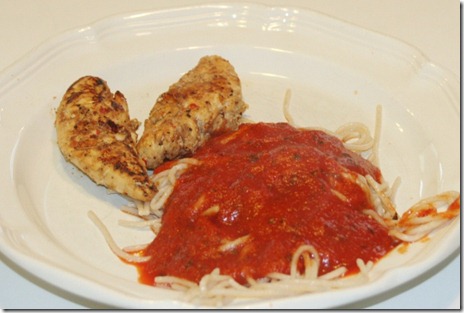 And, with the alfredo: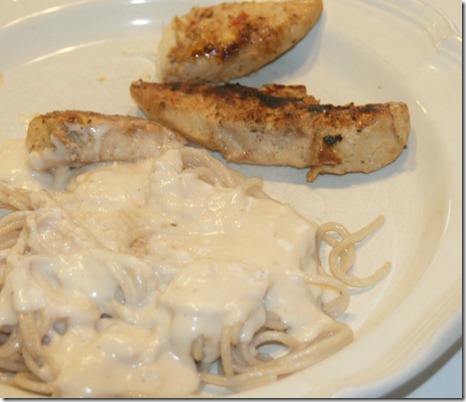 The cupcakes were simply made with Betty Crocker's gluten-free yellow cake mix & Betty Crocker's triple chocolate chip frosting.  The girls then decorated their cupcakes with 2 different types of candy corn (Zachary brand is gluten-free) and sprinkles.    What I loved about this activity was watching the girls and seeing how they differed.  Each one had their own unique style & method for decorating & then eating their cupcake.  Apparently the new thing is to make a sandwich out of your cupcake.  Who knew?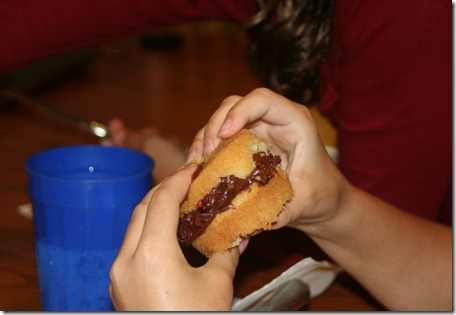 The girls loved dinner and had a blast playing games like Monopoly, Operation & Perfection!  They were all asleep by 1:00 AM and woke up to Aaron cooking bacon and eggs on Sunday morning (naturally gluten-free)!
The key to keeping kids occupied during a sleepover is to have plenty of activities & food.  It is better to over plan and not get to all of the activities than to under plan and have kids bored or looking for ways to entertain themselves.  The board games were a brilliant idea, as there were many options to choose from.  Additionally, be prepared for a child to want to call home or even have mom or dad come pick them up.  I know when I was this age, I refused to spend the night away from home.  These girls all did great, but I made sure to know how to contact mom & dad, just in case.
---
Kelly's Virtual Sleepover is Electrolux's latest campaign to support Ovarian Cancer Research.  By visiting the site you can join the sleepover, and when you join, Electrolux will donate $1 to OCRF and you are then entered for a chance to win a new Perfect SteamTM washer and dryer from Electrolux.  Who wouldn't want to win that?  Apparently it washes clothes in 15 minutes and dries them in 14 minutes.  Talk about a way to simplify laundry!  Electrolux will donate $200 to the OCRF for each washer & dryer pair purchased.
This post is part of the Foodbuzz Tastemaker program with Electrolux.