It is here.  Race Day.  The day I have been waiting for all summer.  I ran this race 2 years ago for the first time.  It was my first ever half marathon.  They say you aren't supposed to set time goals for your first race.  Your goal should simply be to finish.  Being the competitive person I am, I couldn't help but set a goal of running the race in less than 2 hours.  While I didn't hit my goal, I only missed it by less than 2 minutes.  I was pleased, as I got sick less than 48 hours before the race started.  Here is the picture….I don't know if you can see the 2nd pic from the left, but I look miserable!  LOL!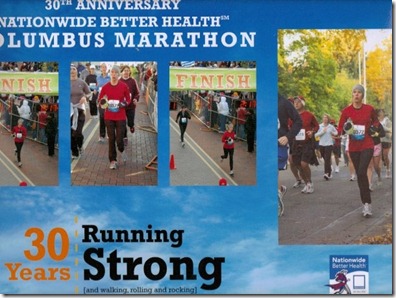 I was unable to run this race last year, as I was recovering from a stress fracture that I suffered running the Cleveland Marathon in May 2010.
This will be my fifth half marathon and my fourth attempt at coming in under 2 hours.  I ran the ING Half Marathon in March of 2010 as a training run & helped pace a friend to finish under 2:30.  The weather looks decent – 47 and cloudy or so at the start.  There is a 30% chance of light rain and while that won't bother me, I hope it stays clear for all of those spectating & supporting their friends & family.
The training is there.  I know I can do it.  I need to push all of the mental blocks away & just run.  If you are interested in following my progress, follow me on Twitter, where TweetMyTime will be updating as I run.  Wish me luck!!
"Try not. Do or do not, there is no try." – Yoda
So, there you have it.
Kim