Commit. Train. Believe. Achieve.  Fitting that this is the official motto for the race that I just PR'd in!
I DID IT!  Shiny new PR (personal record) for me!  I finished the race in 1:57:31 yesterday – my previous PR was 2:01:22 in the same race in 2009.  I don't think I have ever been as nervous about a race as I was this one.  I knew that I had put the work in with my training, but would it all pay off?
Prerace picture taken by my friend, Sue.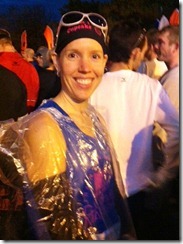 Like the plastic trash bag?  That helped keep me warm until we started – the wind was a little too much comfort before the sun rose.
17,000 runners signed up to run the full & half marathons.  Truly amazing.  The race began with fireworks lighting up the dark sky.  The energy was contagious!  There were points during this race that I really doubted myself – mile 11 was a tough one.  I began to realize at this point that coming in under 2 hours was going to happen as long as I kept my current pace (right around 9 min/mile) and nothing catastrophic happened.  I felt like I was going to puke.  I was so nervous!  I started to chant to myself "I can do this" and "You've got this" for the next half mile or so.  I needed to distract my mind from the numbers and just focus on putting one foot in front of the other.  The bands on the course (100 bands over 26.2 miles) were awesome and did a fantastic job of distracting me.  The crowd support was the best I have seen at a race – and seeing many friends & fellow MIT runners running was a fantastic boost!  I don't think there was a point in time where there weren't people lined up along the side of the road.
The last half mile of the race is uphill to start and then you head downhill to the finish line.  When you are running up that hill you are cursing the course designers, only to pick up the pace & fly to the finish line. Below you can see the back of me picking up the pace!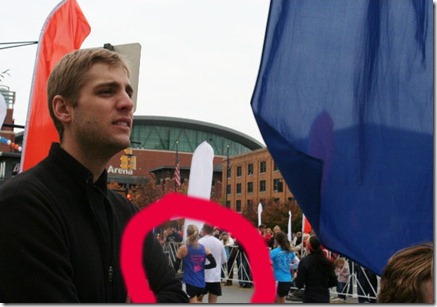 How I placed:
2616 out of 9924 total half runners
1004 out of 6184 Females
148 out of 903 Females in the F3539 Age Group
After the race: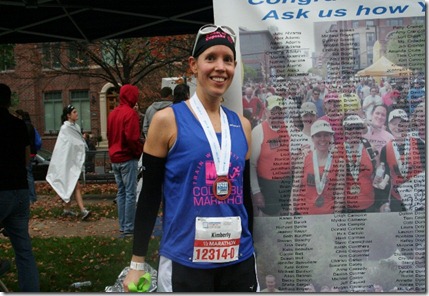 MIT banner – So cool that they had all of our names listed!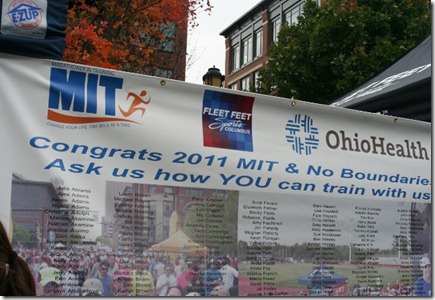 We headed home where Aaron made an amazing gluten-free recovery brunch – turkey bacon, potatoes, eggs & a Food for Life English muffin!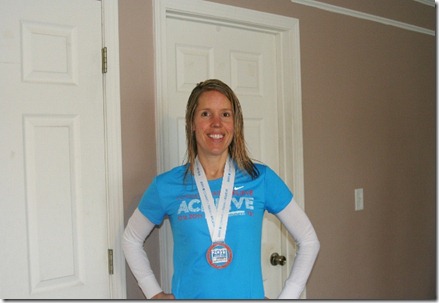 Surprisingly I don't feel too bad today.  My feet feel better than I thought they would, especially since my plantar fasciitis was really acting up in my right foot between miles 7-9.  My legs are sore, as in I can tell I pushed it, but that is a good sore.  I really believe that the strength training & yoga that I have been focusing on has paid off.  My legs are so much stronger than they were just 6 months ago when I ran the Cap City Half.  The physical therapy I did in the spring to strengthen my hips & glutes is what jump started my quest to find a strength training program that worked for me.
Thank you to my family – without your support, this would NOT be possible!!  I love you all!
---
The weekly menu plan will be up later today.  Trying to play catch up now! 

Kim