I didn't eat the aforementioned together, but now that I think about it, roasted pumpkin seeds would be mighty tasty on pizza!  I'll have to give that a try this week on pizza night & let you know how it goes.  In the meantime, here is my latest pizza love creation.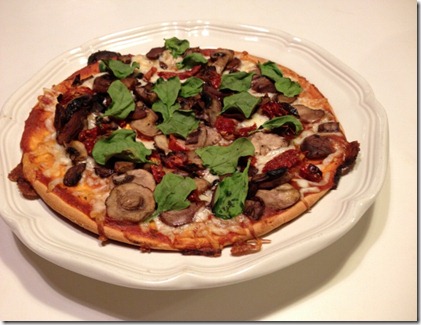 There are 2 pre-made crusts that I swear by – Udi's gluten-free or Kinnikinnick.  This pizza uses Udi's.  Here is what I did:
Udi's personal pizza crust
Prego three cheese marinara
mozzarella cheese
Sliced mushrooms
Sundried tomatoes
Spinach
Cabernet sauvignon
1.  Preheat the oven to 400 – 425. 
2.  Heat a saute pan and drizzle a touch of olive oil or spray with Pam.  Add mushrooms & saute over medium – medium-high heat, stirring occasionally.  When they are about half done, pour in some Cabernet.  I probably used about an 1/8 – 1/4 cup total.  Allow mushrooms to continue to cook in the wine.  Once the mushrooms are cooked, sprinkle with sea salt & freshly ground black pepper
3.  Assemble your pizza.  Sauce, cheese, tomatoes, mushrooms & spinach.
4.  Bake 10-12 minutes, or until crust has begun to get brown & cheese is melty. 
5.  Enjoy! 
I love the added flavor the sauteed mushrooms add to the pizza.  This meal took me no longer than 30 minutes to make from start to finish.  And yes, I ate it all.  Fortunately no one else in my family likes mushrooms or spinach, so this was all mine! 
---
Yesterday we carved pumpkins.  I really shouldn't say "we" because this part of the "we" didn't do much besides clean the seeds & roast them.  Knives & I don't get along so well and & I usually come out with a band-aid or 2.  I seem to have issues chopping vegetables, no telling what would happen carving a pumpkin!  If I didn't have my wonderful husband, I would absolutely carve, but he was there to be my Knight in Shining Armor once more.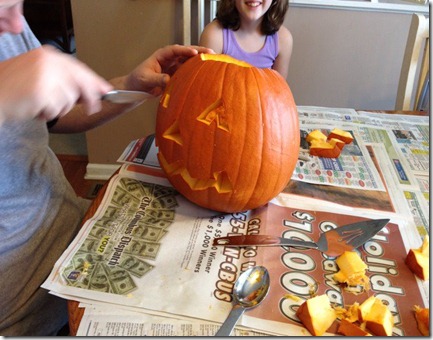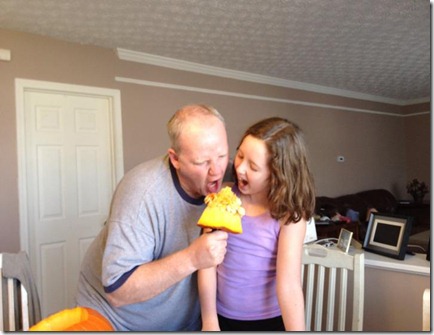 After they were done, I cleaned the seeds off & roasted them.  It was much easier than I remember:
Heat oven to 325
Rinse seeds*
Spray a cookie sheet with Pam
Lay seeds on pan & spray them with Pam
Sprinkle with sea salt or other preferred seasoning
Bake for 8-10 minutes, stir, continue baking for 15 min more or so
Cool completely & store in an air-tight container
I can't keep my hands out of that container!  Only this morning did I see another recipe for pumpkin seeds that has me drooling – Balsamic Lime 'n Avocado Pumpkin Seeds.  After reading that recipe, I have now realized that I have to go buy another pumpkin so that I can make those!  Thanks a lot, Amie!

*I used to think that you had to dry the seeds overnight.  I found out last year that was a huge mistake.  I laid all of my nicely cleaned seeds out on paper towels while I dreamt up ways to season them.  The next day I got up to find that the seeds stuck right to the paper towels.  While I could peel them off, they had bits of paper towel stuck to them.  Major fail.  Hopefully my mistake can keep someone else from making the same one. 
---
Have a safe & Happy Halloween!  Don't forget to
enter to win
a fun package from Pamela's products.
You have until midnight tonight to enter!