A couple of weeks back I got an email with a deal to purchase a pair of Zensah compression socks at 50% off.  The deal was through a Groupon-like website called Schwaggle by Active.com.  The compression socks retail for $49.99, so for $25, this was a great deal.
I have been wearing the Zensah compression leg sleeves for a couple of years and have been going back & forth on trying the socks out for a while.  My feet are very persnickety when it comes to footwear of all sorts ever since I first suffered from plantar fasciitis in May 2010.  I can only tolerate certain socks and wearing any shoes other than my running shoes is hard, though I did finally find a pair of shoes to wear while running errands that work for me (I'll share those at a later date).
Once I decided to go for it, I couldn't decide which color to buy.  I loved the hot pink & the argyle, but I ended up settling on the hot pink.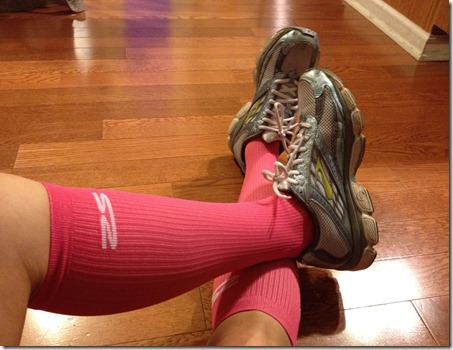 Sassy, right? 
Normally I run at the gym at 5 AM, but couldn't help but put on my new socks & hit the road Wednesday after I got these in the mail.  Who needs rest days, right?  I am thrilled with these socks!  They give just enough support without being too tight.  My feet are comfortable and even receive a bit of support in the arches, which I can definitely use having high arches. 
I have run 2 shorter runs and a 6 mile hilly run since getting these and can't say enough good things about them.  Last week when I ran hills, my plantar fasciitis was starting to bother me part of the way through my run (only 4.5 miles that day); I didn't have any issues this week at all.  The trail was full of gravel and uneven surfaces, which is normally a sure way to irritate my feet.  I have had these socks on all day today (during & after my run) and may never take them off. 
Check out how the socks are labeled to make sure you wear them on the right feet: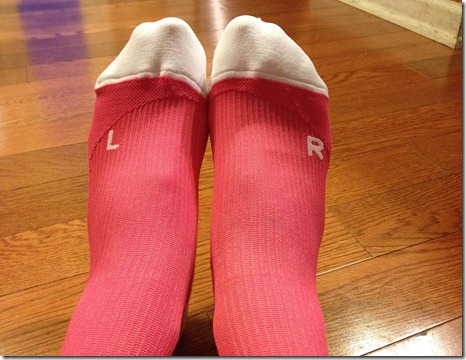 I do have 2 small complaints about these socks.
1 – Seams by the toes.  While they haven't been overly bothersome, I can see how they may be if they aren't positioned just right.
2 – They seem to be pilling a bit on the tops of my toes.  While this may be from usage and rubbing inside of my shoe, for the amount of money these cost, I sure hope they hold up seeing as I have only worn them 3 times.
More from Zensah:
The Zensah Athletic Compression Socks are the most innovative athletic compression socks within the athletic market. Each pair of athletic compression socks is made in Italy using seamless technology to prevent any irritation. The athletic compression socks were designed by a professional athletic trainer and feature ProGrade Compression Technology – the optimal amount of compression for athletes.

The athletic compression socks use graduated compression to increase oxygen blood flow to energize your legs prior to any athletic activity, enhance athletic performance during an athletic activity, and aid in recovery after any athletic activity. The Zensah Athletic Compression Sock will enable you to perform athletic activities at a whole new level.

The Zensah Athletic Compression Socks are the only athletic compression socks to incorporate arch support as part of the athletic compression socks – allowing your legs to last longer during athletic activities. Each pair of athletic compression socks are made with propriety Zensah fabric, which is both anti-microbial and thermo-regulating. The athletic compression socks keep your legs cool in hot weather and comfortable in cold weather.

Be sure to try the number one athletic compression socks today by Zensah!
Have you tried the Zensah compression socks?  Have you tried any other products from Zensah?  The socks can be purchased online from Zensah or from Amazon.com (on sale right now for $44.99).