Now that we have discussed the social side of the holidays, it is time to discuss the behind-the-scenes part – food.  If you are visiting family or friends for the holidays, planning meals can be a little harder than if you were hosting the meal yourself.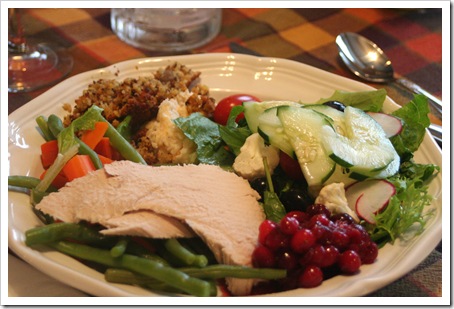 First order of business is to find out what the host is planning to serve.  Ask what you can contribute to the meal.  If there won't be many gluten-free options, make sure to bring something to share that you can eat, even better if it is a casserole or something substantial that will fill you up.  If it seems that the meal will be a cross contamination nightmare, consider bringing a meal you prepared at home to warm up at your destination.  Make your own version of your holiday meal at home and assemble your plate before you leave.  This option may not be possible if you are traveling a long distance or staying in a hotel.  If it seems that I won't be able to eat most of the food being served and logistics prevent me from bringing my own meal, I will either eat before I go and enjoy a cocktail or coffee or I will eat a protein bar and then nibble on veggies or salad.  I always have bars, almonds or dried fruit stashed in my purse for emergencies.
If you are hosting, you have a lot more control.  If you can, make the entire meal gluten-free and your problems are solved.  It really doesn't cost that much more to do it this way.  Cranberry sauce is cheap or easy to make from scratch.  Stuffing can be made out of cornbread or rice, which are both less expensive than using gluten-free bread.  Pies can be made crustless (check out Shirley's crustless pumpkin pie) – not only are they gluten-free, but healthier & lower in calories!  Gravy can be thickened with cornstarch instead of flour, which is the way my grandmother always did it!  Skip the bread at the meal – it only fills you up and takes up space that can be filled with pie! 
Focus on friends and family and not so much on food.  Play board games or put some jigsaw puzzles together.  Consider making a list of questions in your head to ask your friends and family so that you learn one new thing about each person that you didn't know before.  Breathe.  Remember to be thankful for all that you have.   
---
Don't forget to head over to enter my
Riceworks giveaway.  The giveaway runs until Monday, November 14, 2011 at midnight.