First things first.  I was going to do a "Wordless Wednesday" post, but as you all know, it is close to impossible for me to post a picture without "talking".  Instead I decided to write a post with a lot of little tidbits of information, starting with the winners of the Riceworks giveaway.  I have sent an email to each of the winners listed below, so if you are one of these people, please make sure to respond back to me. 
Entry #11Brenda
Entry #5Laura Hanley
Entry #32Cheryl Free
Entry #22Sara W
Entry #14Colleen Mars
---
Katz
Gluten Free is offering a one-day, $5 flat rate shipping deal!  Stock up on goodies for the holidays or order a
free sample pack
& just pay the shipping!  If your order is over $30, shipping is free! 
(source)
---
Amy's Kitchen has introduced new gluten-free sandwich rounds!  They are fantastic!  Check out my review of them here.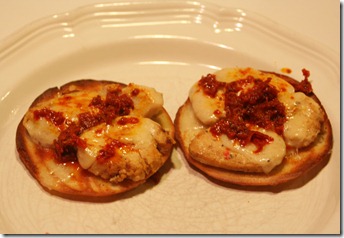 ---
As part of the Foodbuzz Tastemaker Program, I received a coupon for a free Sabra product.  I picked up a package of the Classic Hummus to sample.  I had plans to smear the hummus on a quesadilla with some chicken or a Sunshine burger, but someone, ahem, Aaron, devoured the container before I was able to!  He said to make sure to mention that the hummus was so good that he ate it all in one sitting and didn't share it with anyone else!  LOL!  Fortunately I have tried the Sabra hummus before, so I know that it is very good. 
(source)
Sabra has many different varieties of hummus:
In addition to hummus, Sabra also makes salsa, guacamole & some side dishes.  Here is what the FAQ had to say about the gluten-free status:
ARE SABRA'S PRODUCTS GLUTEN-FREE?

All of Sabra's products meet broad standards of gluten free content of <20 ppm.
Sabra products can be purchased in grocery stores across the US. 
---
I started reading a new (to me) book the other day titled "The End of Normal" by Stephanie Madoff Mack.  I didn't realize when I started reading what it was about, but quickly figured it out.
An explosive, heartbreaking memoir from the widow of Mark Madoff and daughter-in-law of Bernard Madoff, the first genuine inside story from a family member who has lived through — and survived — both the public crisis and her own deeply personal tragedy.
To be honest I didn't follow a lot about what went on with Bernie Madoff.  Sometimes the news is overwhelming and I choose to live in my bubble world.  There are definitely times when I pay more attention, but this was not one of those times.  I bet you are wondering why I am writing about this, right?  Well, as I was reading last night, I discovered that Mark Madoff (son of Bernie, late husband of Stephanie) was on a gluten-free diet because he had Celiac Disease!  I had no idea.  Just thought that was a Gluten-Free is Life newsworthy tidbit.  I am about 4 chapters in and it is a pretty good book.  Probably helps that I didn't really know the whole story of what went on, right?
---
Happy Wednesday!
Kim