It was bound to happen, right?  Can't live in Ohio and go without snow all winter can we?  The thought is sure nice.  However, I can deal with the dustings like this.  I really dislike ice and large amounts of snow that I have to shovel.  I can take a couple of days like this since the temps seem to be headed back up towards the middle to the end of the week.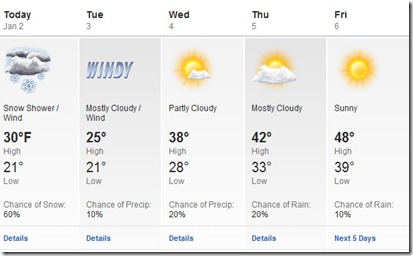 I believe that everyone is back to normal (crossing fingers) here, so we should be able to get back to our meal plan.  I really feel like I have been just piecing meals together over the past month and it is getting old.
Sunday – Chipotle made at home – flank steak, chipotle rice and corn in a bowl.
Monday – Spaghetti and marinutta sauce or meatballs, broccoli & salad
Tuesday – Tacos, black beans, corn & salad
Wednesday – Burgers on Udi's gluten-free buns, parmesan steak fries and salad
Thursday – BBQ pulled pork sammies, coconut baked rice, mixed veggies and salad
Friday – MYOP with Udi's gluten-free crusts and salad
Saturday – Dinner out with Mom & family
---
Check out my post over on
Celiac-Disease.com about Katz and their new products
! 
Kim