It has been going through the blogosphere that Burger King's French fries are now gluten-free. I thought they had always been gluten-free as far as ingredients go, but they were contaminated due to being fried with the chicken.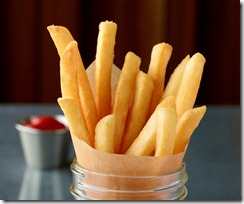 (source: BK Facebook page)
Turns out they have just recently changed their recipe as of December 5, 2011.  The new recipe is gluten-free, as was the old version, as long as they are fried in a dedicated fryer.  A list of foods that don't contain gluten at Burger King can be found here.  This list was last updated in March 2011, so please exercise caution if you choose to eat at BK. 
While I do love a good French fry, I can't see myself going out to get these.  I do eat fries on occasion from restaurants, but I usually stick with Red Robin, Chick-fil-a or Five Guys.  I actually prefer to make my own fries at home.  I love a thick, potatoey (is that a word?) steak fry!  Sometimes I go with the sweet potato version, other times I spice up the traditional version. 
Have you had the "new" fries from Burger King?  Do you eat anything else gluten-free at Burger King?
Kim