I know you are probably reading the title thinking I am out of my mind.  I can assure you that I didn't eat gluten willingly, but as a result of cross contamination.  Fortunately I did not get sick.  I am not sure how I got so lucky – maybe not enough gluten present?  Who knows.  Let me back up a little bit and share the story. 
My mom came to town yesterday to celebrate our birthdays.  Many years ago I was her birthday present!  I have always enjoyed sharing our special day together.  The official day isn't until the 9th, but since that falls on a Monday, we celebrated a few days early.  We chose Cameron's American Bistro as the restaurant for our feast.  They are part of the Cameron Mitchell Restaurant group and have been offering a gluten-free menu for a few years now.  Within the past year or so they began serving rolls from Holiday Baking Company, which I was thrilled about!  I have never been served gluten-free bread before a meal in a restaurant before.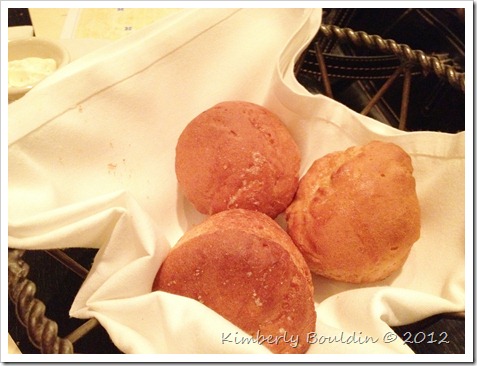 The rolls were served hot along side fresh, whipped butter and a roasted head of garlic.  Heaven! 
Next up we split the portabella mushroom fries.  These melted in our mouths and the horseradish sauce was divine!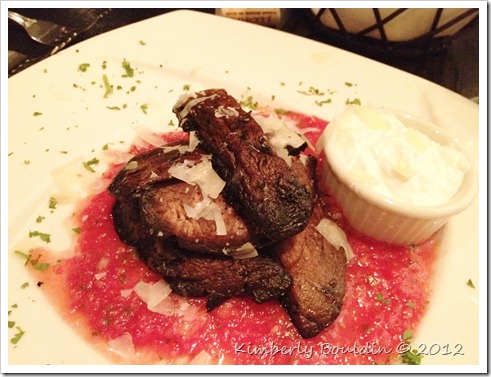 I had a rough time deciding what I wanted to order for my main course, as the gluten-free menu is fairly extensive.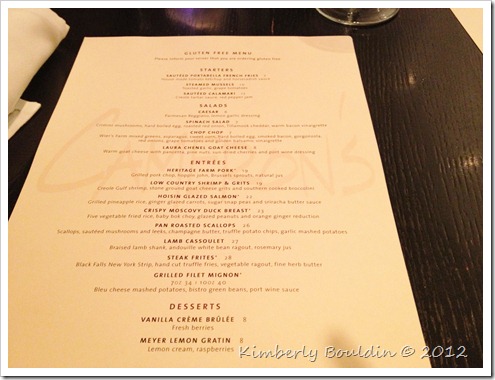 I had my eyes on the pan roasted scallops, shrimp & grits, filet mignon, steak frites and the salmon.  I settled on the steak frites – the hand cut truffle fries sealed the deal!  The server we had was phenomenal; she was very well-versed in the gluten-free menu, even mentioning how they were investigating how their bleu cheese is processed to ensure that it is gluten-free.  I actually felt very much at ease when ordering, which would come back to bite me in the butt in the end.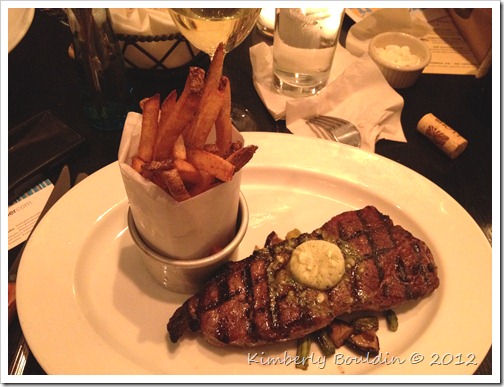 The steak was a NY strip that came on a bed of sauteed asparagus and mushrooms and was topped with an herb butter.  The steak was perfectly cooked to medium rare and each bite was bursting with flavor.  The hand cut truffle fries were out of this world….until I reached the bottom and came across a tentacle from fried calamari.  The fried calamari is not on the gluten-free menu because it is breaded.  I immediately freaked out.  Was I just glutened?  All of that amazing food that I had just eaten and thought was safe, but the fries had been contaminated.  Before I let myself get too worked up, I asked to speak with our server and then the manager.  Just as I thought – my suspicions were correct – there is NO dedicated fryer for the fries.  How did I overlook the first question I typically ask the server?   I wanted to rewind & start over, avoiding such a major faux pas. 
As I was waiting for the manager to come over to our table, another thought crossed my mind.  While I have Celiac Disease and gluten makes me sick (as in GI symptoms), I really got concerned when I thought about someone with a true wheat allergy.  That person could have a life threatening reaction if they had the experience that I did.  I calmly explained to the manager that fries cooked in a fryer with foods that contained gluten are NOT gluten-free.  I went on to explain that they needed to remove them from the gluten-free menu immediately before someone had a life threatening reaction or worse, died.  Of course she apologized and took care of our meal, which we appreciated, but I still felt the need & responsibility to the gluten-free community to share this. 
This brings up another major concern – if the staff thought that the fries would be gluten-free when cooked with gluten-containing foods, what other mistakes are being made with the gluten-free menu?  It is possible that everything else is 100% gluten-free and safe to eat.  Of course it is also possible that there are other underlying issues that need to be addressed.  Offering a gluten-free menu is wonderful to those that have to follow the diet, however, if mistakes such as these are being made, it is better to not offer the menu at all and the false sense of security that goes along with it. 
I would like to see the Cameron Mitchell Restaurant group hire an expert to come in and review all of their gluten-free menus & procedures at each of their restaurants that offer a gluten-free menu.  They seem to be serious about offering gluten-free choices; this step would seal the confidence of their gluten-free customers.