Staying balanced & healthy isn't always easy.  Life happens.  Meetings pop up or one of the kids always seems to need something last minute for a project, yet they neglect to share that until I am in my jammies.  Staying balanced & healthy to me means eating right 80 percent of the time and hitting the gym/running 5-6 times per week.  Even if I don't have time for a 60 minute workout, anything works.  Yoga, a walk, stretching.  Sometimes there is an added challenge having to follow the gluten-free diet, but I have learned over the past 6 years what foods to keep on hand for quick, healthy meals.
When I write a weekly menu plan, it is with the best intentions.  There are many times I make what is listed, but don't end up eating it myself for whatever reason.  Sometimes it is simply due to the fact that I am feeding the kids early so they can get to their respective activities. When this happens, I will take 20 minutes to put together a healthy combination of foods that are usually naturally gluten-free.
Foods I keep on hand for busy nights:
Brown rice (I either cook over the weekend & freeze or buy the pre-cooked frozen – I like Trader Joe's.)
Canned beans – black, garbanzo, kidney
Fresh vegetables for salads or roasting
Corn tortillas for mini wraps or bake for homemade tortilla chips
Tuna
Chicken breast – I slice and freeze for fast cooking on busy nights.
Quinoa – Cooks in 10-15 minutes and is a nutritional powerhouse.
Burgers – I form ground turkey, bison or beef into patties & freeze so they are ready to go.
Nuts – Walnuts are my current favorite.
Avocado – I love to spread avocado on gluten-free toast & sprinkle sea salt on top.
I always have a large salad with dinner.  My salad usually consists of 2-3 large handfuls of organic mixed greens, chopped tomatoes, zucchini, cucumber, walnuts, goat or feta cheese, raisins or berries and a drizzle of pomegranate or balsamic vinaigrette.  Here is an example of a large salad that I usually eat with my dinner.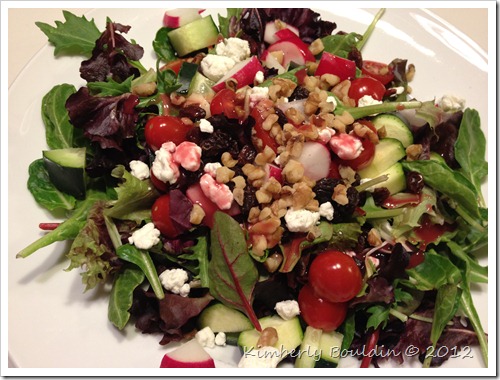 If I have some extra time on the weekend, another thing I do to trim time off of my weeknight meals is to roast some veggies.  I take what I have on hand – carrots, zucchini, okra, beets, etc and toss them with a little extra virgin olive oil and sea salt.  Roasting then takes roughly 20-30 min in a 400 – 425 degree oven.  I flip them half way through and remove from the oven once they are soft, but not mushy.  Once you have the veggies roasted, they can be stored in the fridge and used in rice bowls, salads or wraps.
One of my favorite quick meals is a rice bowl.  I use cooked brown rice, a protein of sorts – this night I used black beans -roasted or sauteed veggies and then warm everything up in a frying pan.  The combo of choice for this bowl was brown rice, black beans, okra, snow peas and lite soy sauce (La Choy is gluten-free).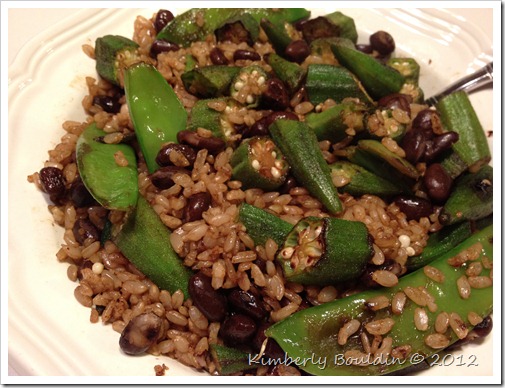 You can really create any combination you want using brown rice or quinoa (or get crazy with millet, buckwheat or amaranth), a protein and then veggies of choice.  Since I used cooked rice and protein, this took me less than 10 minutes to put together.  Much healthier than the drive thru, for sure.
This post is part of "Balanced, Healthy & Gluten-Free" that will be going on all month over at The Balanced Platter.  Make sure to check out the new site, founded by Amy Green (Simply Sugar & Gluten-Free) & Maggie Savage (She Let Them Eat Cake).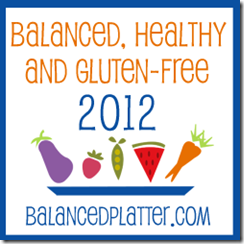 The Balanced Platter is on Facebook, as well as Twitter, so make sure to follow them so you don't miss any of the posts this month!