I heard it through the grapevine that Chobani had several new flavors out, so I made it my mission to locate the new flavors & give them a try.  Apparently the mango has been around for a short while, but it has somehow escaped my radar.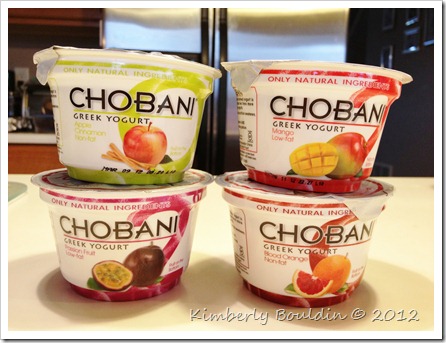 I was so excited with my purchases, I couldn't decide which flavor to try first!  I finally decided on the blood orange.  After my strength training on Monday, I grabbed the yogurt right after I get out of the shower.  I have a bad habit of drinking coffee, checking email and keeping my butt firmly planted in my chair and not eating breakfast as soon as I should after my workout.  The first 60 minutes after your workout is the best time to get protein & carbs in to refuel those muscles.  I was wasting that hour screwing around on my computer.  It is easy to remedy that by grabbing a small cup of yogurt that packs 14 grams of protein in it!  The blood orange flavor was amazing!  What a unique fruit to use in yogurt.  I can see buying this again in the very near future. 
Next up was the apple cinnamon yogurt.  I ate this before heading to yoga one night and it did a great job of holding me over between lunch & dinner.  The yogurt contained small chunks of apples and just enough cinnamon.  It was a nice refreshing treat!
I was a little intimidated by the passion fruit yogurt.  I didn't realize there would be decent size seeds in the yogurt, but I got over my hesitation and took a bite.  WOW!  I love this stuff!  I have never tried passion fruit, but think that I need to see if I can find one and try it (in season, of course).  I definitely have a passion for this passion fruit yogurt!  I know that was cheesy, sorry!
Last, but certainly not least, was the mango yogurt.  It was every bit as good as the others and I love it!  Little chunks of mango nestled in the thick, creamy yogurt were such a treat! This variety, along with the passion fruit is low-fat (2%), not non-fat.  The 2% varieties only have 20 more calories and are much creamier.  Now I need to head to the store to get more Chobani ASAP! 
Chobani Greek yogurt can be found in most mainstream grocery stores across the US.  Do you have a favorite Chobani flavor?  Have you tried the new flavors yet?