There was a startling piece on the morning shows & news yesterday.  It talked about how younger women are less likely to have the telltale pain in their chest.  Instead, some of the symptoms are more atypical and may mimic other conditions.  This really caught my attention.  I know the feeling of going to the doctor only to be told that nothing is wrong.  In fact, I did it earlier this week for what I thought was a change in my breast & it turned out to be nothing.  Better safe, than sorry, right?  Here are the atypical symptoms that all women, especially those who are younger, should watch for:
Top 5 Symptoms of Heart Disease in Women

1. Fatigue

2. Shortness of Breath

3. Indigestion, Upper Abdominal Pain or Nausea

4. Jaw or Throat Pain

5. Arm Pain (Especially the left arm)
(source)
Please, please, please do not delay getting checked out if you have any of the above symptoms.  Younger women are more likely to die from a heart attack due to not recognizing the atypical symptoms & getting prompt medical attention.  Heart disease is the #1 killer among women.
Last month I wrote a blog post for The Balanced Platter on Staying Balanced & Healthy.  Eating healthy is a vital part of keeping your heart healthy, right along with getting enough exercise & knowing your numbers & risk factors.  Having a busy life certainly makes this a lot more challenging, but not impossible, as I describe in that post.  Rice bowls are one of my favorite go-to meals on a busy night.  I will often stray from my menu plan when last minute things come up, but instead of picking up take-out or heading out, I will make a rice bowl and salad with all kinds of heart healthy foods.  Here is my current favorite combination: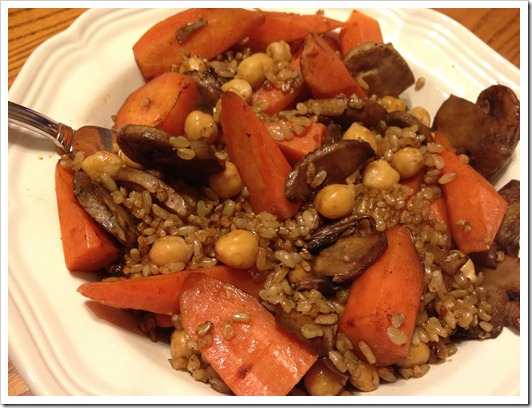 This combination was super simple.  I satueed some mushrooms in a touch of extra virgin olive oil & red wine and then tossed in some steamed carrots & chickpeas when the mushrooms were done.  I had some cooked brown rice on hand, but if you don't, you can also use the frozen pre-cooked brown rice.  I added the cooked rice to the pan along with some low-sodium La Choy soy sauce.  Paired with a large salad chock full of dark greens, tomatoes, zucchini, pears, walnuts and avocado & I had a heart healthy meal.  Additionally, all of the foods that I used to make this meal with are naturally gluten-free, so there is no excuse!
February is Heart Health Month, so I want to share some additional tips with you all.
Not all fats are bad.  Notice how I added walnuts and avocado to my salad?  They are healthy fats (polyunsaturated & monounsaturated). Unhealthy fats (saturated & trans fats) are typically found in baked goods, fatty foods like French fries & the skin of chicken.
Aim to get exercise 5x/week for at least 30 minutes.  Walk to the store, pick up the kids from school, etc.  It all counts.
Know your numbers: cholesterol, BP, BMI, among others
Reduce stress – yoga is great for this!  Never taken yoga before?  No worries, check out YouTube, Netflix or yogadownload.com for some free options.
Weight management – Aim to get your BMI within a healthy range.
Quit smoking – I know how hard this is, as I am an ex-smoker.  I quit smoking July 5, 1999 and it was the best thing I have done for my health.
Of course there are days when things don't go as planned.  Life happens & adjustments must be made.  That doesn't mean I quit.  I dust myself off and get right back at it the next meal, morning or workout.
What do you do to keep your heart healthy?