I was the "lucky" recipient of a So Lucky Gifts Active Box full of Honey Stinger products the other day!  I love Honey Stinger gels, so I was excited to try the protein bars & organic energy chews.  Check out this beautiful packaging from So Lucky Gifts:
I didn't want to ruin it because it was so nice!  Inside the box were several different flavors of the organic energy chews & 2 of each protein bars.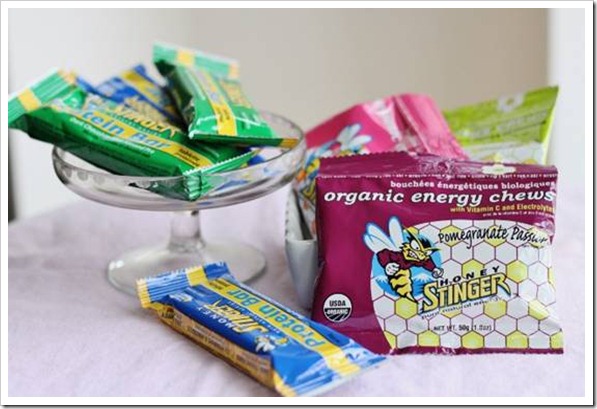 The organic energy chews are great for a pre- or mid-workout energy booster.  I sampled the pink lemonade, pomegranate passion fruit and caffeinated lime-ade.  I have to say that my favorite was the pomegranate passion fruit!  More about the organic energy chews:
Honey Stinger Organic Energy Chews are formulated specifically for health-conscious individuals and athletes seeking a great tasting energy snack. Honey Stinger Organic Energy Chews are unique as they are the first to include naturally occurring fiber and protein derived from 100% organic tapioca syrup and honey (Lime-Ade chews are 95% organic). Smaller and softer than other chews.

Made with USDA certified Organic ingredients. Gluten-free, dairy-free, non-GMO ingredients. 0g Trans Fats and no partially hydrogenated oils. 100% RDA Vitamin C along with 1g protein and 1g fibre per package. Adults and kids love them!
The protein bars come in 2 different varieties 10 grams & 20 grams of protein.  I sampled the 10 gram bars in dark chocolate coconut and dark chocolate mint flavors.  I loved both of the bars, but I think the dark chocolate coconut stole my heart – the flavor combination reminded me a bit of the Girl Scout Samoa cookies.  These are great for refueling after a hard workout!  More about the protein bars:
A smaller size version of our popular 20g Protein Bar. A truly great-tasting meal replacement snack or after workout recovery bar. Honey Stinger protein bars are gluten free and contain no trans fats. Our protein bar is truly unique as we include over 30% USDA certified organic honey, 10 grams of whey protein – 20% of the daily recommended allowance, 22 vitamins and minerals, calcium and antioxidants
I wanted to add that while there are no gluten ingredients added to the Honey Stinger products, I was concerned when I saw this statement right below the "gluten-free ingredients" statement:
"May contain peanut, wheat, egg and other tree nuts".
Honey Stinger was kind enough to share this information to provide some peace of mind:
"Honey Stinger protein bars are made with 100% gluten free ingredients.  We have many customers with celiac (disease) report their successful use of our protein bars.  We realize every person with celiac has a difference level of allergic response and the disease is a significant inconvenience. The wheat warning on the allergens statement of our package is there because the protein bars are not produced in a certified gluten free facility. The facility that packages our protein bars also package wheat products therefore there is always a chance particles of wheat may be present. The likelihood of this happening is small but the chance exists."  Additionally on their website, they state, "Our organic energy chews have non-gluten ingredients and are made in a facility that does not process any products with gluten. Our 10g protein bars, 20g protein bars and gels do not have any gluten but they are made in a facility that processes gluten. In between production runs the lines are meticulously cleaned."
The "So Active" box is $14.99 + $5.00 in shipping. So Lucky Gifts offers many other options than the "So Active" box that I received.  They have a gift box for just about every occasion you can think of!  I love the "Starter Kit" and "Away-from-home" packages!
The great people over at So Lucky Gifts have graciously offered to give one lucky reader a "So Active" box, just like the one I received.  How does that sound?  Just follow the instructions below to enter to win!
***The products reviewed in this blog & up for giveaway were provided courtesy of So Lucky Gifts.  The opinions stated here are mine and have not been influenced by anyone or anything.