I am flattered that I have the pleasure of being a part of the How to Cook Gluten-Free "Pizza and Pasta Cookalong" with Elizabeth Barbone.  I have known Elizabeth for several years now. I believe that we "met" on a Yahoo group for those following the gluten-free diet, if I remember correctly.  Elizabeth has a new cookbook due to be released on March 16th, just a few days from today.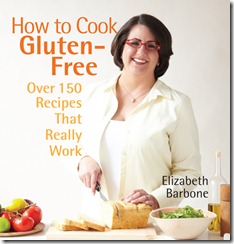 I have drooled over Elizabeth's recipes for years and couldn't wait to make the "Powdered Sugar Doughnut" Muffins once I read the recipe.  Jon is always asking for a baked sweet treat, so I knew that he would be pleased to come home from school to these.  The ingredients were all things that I had already in my pantry, which makes it much more likely that I will make these again.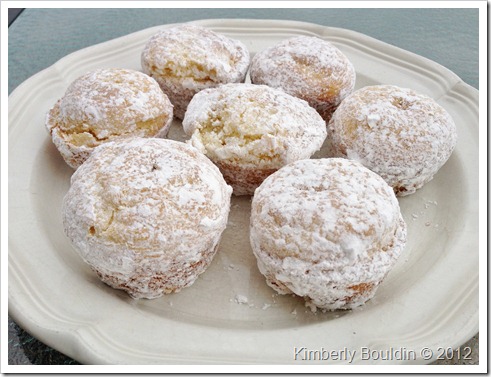 Powdered Sugar Doughnut Muffins

Dry Ingredients
3/4 cup white rice flour
1/2 cup cornstarch
1/4 cup sweet rice flour
3/4 cup granulated sugar
2 teaspoons baking powder
1/4 teaspoon salt
1/4 teaspoon ground nutmeg
Wet Ingredients
3/4 cup milk
1/4 cup vegetable oil
1 large egg
1 package (1 pound) powdered sugar
1. Adjust oven rack to the middle position and
preheat the oven to 350ºF. Lightly grease the
cavities of a mini muffin pan with nonstick
cooking spray.
2. In a medium bowl, whisk together the dry
ingredients. Add the wet ingredients and whisk
to combine. The batter will be thin.
3. Fill the muffin cavities about half full. Bake for
20 to 25 minutes, until the muffins are golden
brown.

4. While the muffins are baking, fill an 8-inch
square baking dish with the powdered sugar.
5. Remove the muffins from the oven and
working in batches, place them directly into
the powdered sugar. Gently roll the muffins in
the sugar to cover them. The steam from the
hot muffins will make the sugar stick to the
muffins. Remove the muffins from the sugar
and tap off any excess. Transfer the muffins
to a wire rack to cool. Store in an airtight
container for up to 3 days or freeze for up to 1
month.
Makes 24 mini muffins
My recipe notes:
I used mini and full size muffin pans – the full size turned out much better and would be perfect to fill with a custard or jelly.
The recipe called for removing the muffins right away & tossing in the powdered sugar; I found they held together better if I waited 5 minutes.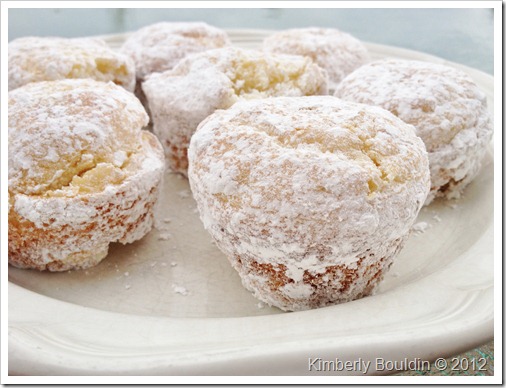 Jon adored these!  He originally came home from school upset that I hadn't made Crispy Rice Treats, but quickly quieted down once he shoved a few of these in his mouth.  I believe he used the words "freakin' awesome" to describe them.
Now comes the fun part – one lucky reader will win a copy of Elizabeth Barbone's new book: How to Cook Gluten-Free: Over 150 Recipes that Really Work.  Just follow the directions below to enter to win.
***The copy of How to Cook Gluten-Free was provided by Lake Isle Press