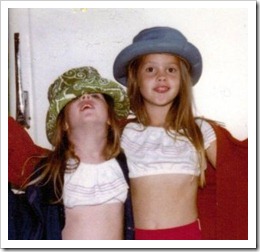 A little side note – I was looking for a picture of Kelly on my laptop & found this one of us as kids!  LOL!  I am on the right, Kelly is on the left.  Okay, enough of the past.  Here is a current picture with baby Garrett: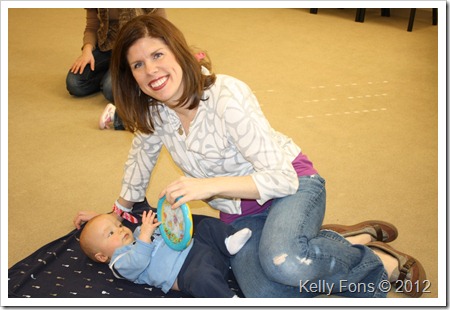 And now, without further ado, here is Kelly:
As a person who does not have food intolerances, I think it can be easy to get overwhelmed when a guest comes to stay who does. My sister and her son, both with Celiac, are staying with us for a week for their spring break. While this used to be an anxiety-producing event because of the uncertainty about what to cook, I can now say that I can entertain gluten-free guests with confidence after adopting these three basic concepts:
1. Go with what you know:
I find it is easiest if you look for recipes you may already make that are naturally gluten-free and start from there. There are many idiosyncrasies in substitutions that can be daunting if you are not familiar with how they behave (Case in point: what is xanthan gum??), and so I try to avoid substitutions. I am sharing a recipe below that I made for our gluten-free guests last night, and I am happy to say that not only did everyone love it, no one got sick!! (Yes, this is always a bonus when entertaining!)
2. Watch for Cross-contamination
If you do not eat gluten-free, your kitchen likely has gluten everywhere, even after you have cleaned – from the crevices in a wood cutting board that you used to make yesterday's sandwich, to the mayonnaise that may have collected stray crumbs from a double-dip of the knife. Just be aware of what has been there before this meal and keep the kitchen clean as best as you can; use a clean plate for your cutting surface, open a fresh jar of mayo –you get the idea. I also find it easiest if the entire meal is gluten-free, rather than just making something separate for the GF guests. That way, you know there is no gluten currently in the preparation area.
3. Read labels – When in doubt, leave it out!
There are so many things that are not obvious gluten offenders that the average cook may think are safe but could actually be dangerous. Just be sure to read the labels – if it says that something "comes from a facility that also processes wheat, etc.," even though you can't identify one specific ingredient containing gluten, consider it off-limits.
The most important thing is to cook with the confidence that you can prepare a gluten-free meal; just being aware is half the battle. Relax and enjoy your guests!
(picture courtesy of the bhg.com)
Roasted Pork with Blackberry Sauce

(recipe inspired by Better Homes & Gardens online)

Makes 6 servings

Prep: 20 Minutes

Marinate: 2-5 hours

Cook: 5 minutes

Roast: 425 for 40 minutes (until temperature has reached 155 degrees)

1 ½ lb. Pork Tenderloin

½ cup blackberry preserves, melted and cooled

½ cup white wine or pear juice (I used pear juice)

4 tbsp. white balsamic vinegar

4 tbsp. olive oil

4 tbsp. Dijon mustard

4 cloves garlic, minced

2 tsp. soy sauce

2 tsp. orange zest

1 tsp. snipped fresh rosemary

· Place tenderloin in zip-top bag. For marinade, whisk together preserves, wine/juice, vinegar, olive oil, mustard, garlic, soy sauce, orange zest and rosemary. Pour half of marinade over pork (reserving the rest for the reduction sauce). Seal bag and refrigerate pork for 2-5 hours, turning bag occasionally.

· Preheat oven to 425 degrees. Drain pork. Place meat on rack in shallow roasting pan. Roast 35-45 minutes or until slightly pink in the center (155 degrees)

· Meanwhile, for sauce, in small sauce pan, bring reserved marinade to boil and reduce to simmer. Simmer 5 minutes.

· Let pork rest for 10 minutes when finished roasting. Slice pork. Serve with reduction and steamed green beans and mashed potatoes.
The pork tenderloin & reduction was awesome!  I can definitely see making this at home for the family.