Here is a quick picture of Brandie and me after our first race of 2012: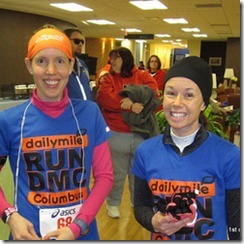 Now, without further ado, Brandie:
Over the past three years I've spent countless hours and thousands of dollars looking for an answer to the tummy troubles that have plagued me for years.  I was diagnosed with lactose intolerance in my early 20's and then in my 30's began struggling with what seemed to be everything I ate.

In 2010 my Gastroenterologist suggested that gluten may be the culprit and ordered a Celiac panel.  At this point I'd already started to have some suspicions that gluten intolerance or Celiac could be to blame for many of the health issues I'd experienced such as the obvious digestive issues, difficulty focusing at work and home and fatigue and vertigo to name a few.  My test came back negative so I started eating gluten again.

In summer of 2011 I started to exhibit gall bladder symptoms which only added to my already sensitive stomach.  I'm not at all in the "at risk" category.  I'm under 40, weigh 100 lbs, I'm a runner and stay very active, and I haven't eaten fried foods or fatty foods in years.  Once it was determined that my gall bladder was in fact the issue and would require surgery I began doing my own research on  gall bladder disease and discovered that food allergies can actually have a enormous  impact on gall bladder health, which my surgeon confirmed at my post op visit.

I maintained a gluten free diet for about two months, before and after my surgery, and my symptoms disappeared.  However once I recouped from my surgery I began sneaking bread, granola bars and cereal to name a few and my symptoms returned with a vengeance.  In January of 2012 I'd finally decided it was time to completely cut gluten out of my diet.  In addition to the items mentioned above I'd also been coping with an itchy rash/welts on my lower back for about 3 years.  I'd tried different creams and soaps over the years but it never improved.   I've been completely gluten free for a little over two months and not only are my digestive issues gone, the rash that has plagued me for some many years has cleared 100% .  Though I've been tested for Celiac's twice and both tests were negative my body has made it very clear that gluten simply isn't an option for me any longer.  I'm new to the GF life and I've had some slip ups but I'm thankful I made the change and my body has responded favorably to my decision.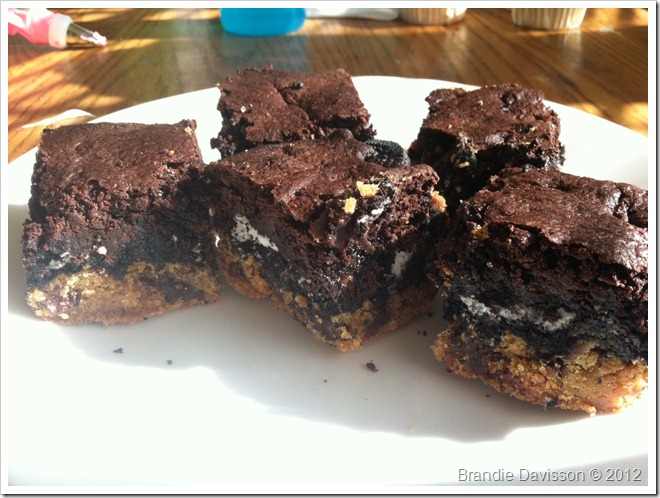 I've only been gluten free about two months so I've not yet mastered the art of gluten free baking. To be honest I never really mastered the art of baking at all and many of the gluten free recipes I've found online look not only time consuming but risky and costly so I've not experimented as much as I used to. I have a serious sweet tooth so passing on cakes and cookies at social gatherings has been though but I know what the outcome would be if I chose to indulge which keeps me in check, but still longing.

Recently many of my non gluten free friends have been blowing up Facebook with a recipe for "Slutty Brownies". Ok so the name is wildly inappropriate I'll admit, but this dessert is a chocolatey trifecta! The bottom layer is chocolate chip cookies followed by a layer of Oreos cookies then topped with brownies – what's not to love?

On Friday a coworker brought in a batch to work and gave me one to try. I sniffed it for awhile weighing my options then decided that choosing to intentionally gluten myself the day before a 12 mile run was nothing short of insanity so I opted to give them to another coworker.  I watched her as she sunk her teeth into this heavenly treat, creepy yes, anxious to hear her response, which went a little something like this, "I'm in love." It was at that moment I knew I had to figure out how to make a gluten free version of the "Slutty Brownie".

There are a lot more gluten free options in the grocery stores these days for everything from Bisquick to Brownies.  I've experimented with a few and have found that some have a funky aftertaste while others taste very much like the full gluten versions of my past.

For this recipe  I choose Betty Crocker's Gluten Free Chocolate Chip Cookie Mix in a box, mixed according to the directions , for my bottom layer;  for the middle layer I used Kinnikinnick Kinnitoos chocolate sandwich creme cookies; and for the top layer I used Betty Crocker's Gluten Free Brownie Mix in a box, mixed according to directions.  It took a whopping 10 minutes to mix and assemble the ingredients. I placed each layer in an 8×8 glass pan and baked on 350 degrees for about 40 minutes.  It was just that easy and even more impressive, I didn't burn them.

I waited a total of five minutes before I cut into them for a little taste test. The consistency and taste of each layer was just as I remembered. I cut up the rest of the pan once they cooled.  I was worried that they might crumble or fall apart but they came out perfectly. I enjoyed three-ish brownies today, my kids and husband each tried one and everyone gave them two big thumbs up.   I will definitely make these again, but next time I'll try to show a little more self control.
I don't know about you, but I need to make these – STAT!  Brandie and I talked about these on our 12 mile run on Saturday and I believe that I already have all of the ingredients!
Thank you Brandie for sharing your story and this recipe with us!  Baking gluten-free doesn't have to be difficult – get creative & have some fun!