About a month ago I wrote a review on Topricin and raved about how much better my feet were feeling this round of training compared with past seasons.  As my mileage creeps up, my plantar fasciitis starts to act up.  This was not the case this season, as I had started using Topricin Foot Therapy Cream on my feet.  Coincidentally I saw in Runner's World Magazine that it was rated as the top choice for sore feet!  Yes, I have had another foot issue going on, but plantar fasciitis has not been part of the problem for the first time!  Another great benefit of Topricin is that it is gluten-free for those who suffer from dermatitis herpetiformis or other skin rashes related to gluten.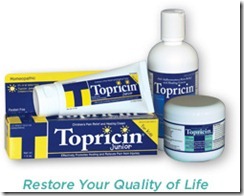 (source)
I am pleased to share that Topricin has graciously offered to give a tri-pack (will have one of each – original, kids and foot cream) of their products to 3 lucky blog readers!  How cool is that?  All you have to do to enter is follow the instructions in the Rafflecopter box below.
***The giveaway products are being supplied by Topical BioMedics.  I have not been paid to review the product or host this giveaway in any way other than receiving samples.  My thoughts and opinions on these products are my own.