Celiac Awareness month is in full swing!  Gluten-free and Celiac chatter is filling up the Facebook and Twitter threads helping to educate more and more people.  Nueva Cucina has generously offered to give one lucky reader a sampling of their product line.  Before I get to the fun stuff make sure to check out this blog post about how "delicioso" awareness can be.  It includes this amazing Coconut Raisin Rice Parfait and lots of great information!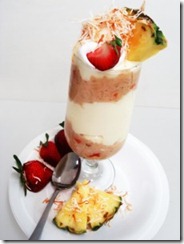 Coconut Raisin Rice Parfait
1 box of Nueva Cocina Coconut Raisin Rice
1 Cup of unsweetened coconut milk
1 Cup of cream of coconut
1 tablespoon of butter
1 tub of gluten-free pudding (you can also cook the instant kind)
Whipped cream (you can use Cool Whip or make your own with heavy whipping cream)
Follow the directions on the Nueva Cocina box to cook the Coconut Raisin Rice.  Once cooked, add 1 cup of cream of coconut, 1 cup of the unsweetened coconut milk and 1 tablespoon of butter.  Cook on low heat until liquid is absorbed and rice has a thick and creamy consistency, approximately 20 minutes.  Remove from heat and refrigerate covered for at least an hour.  When ready to serve, spoon a layer of pudding into a wine glass, then add a layer of the rice mixture.  Continue to build your layers and top it off with whipped cream.  Garnish with toasted coconut and/or fruit of your choice.
Now for the fun stuff!!  Make sure to follow the directions below to enter to win one of each of the following.  *Please note the picture shows 2 of each product, the giveaway winner will receive 1 of each product.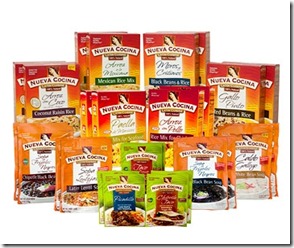 Mexican Rice/Arroz a la Mexicana(1), Red Bean Rice/Gallo Pinto(1), Black Bean Rice/Moros y Cristianos(1), Coconut Rice/Arroz con Coco(1), Rice for Chicken/Arroz con Pollo(1), Rice for Seafood/Paella Rice(1), Cuban Black Bean Soup/Sopa de Frijoles Negros(1), Chipotle Black Bean Soup/Sopa de Frijoles de Negros con Chipotle(1), Corn Soup/Sopa de Maiz(1), Latin Lentil Soup/Sopa de Lentejas(1), White Bean Soup/Caldo Gallego(1), Picadillo/Latin Beef Seasoning(1), Taco Fresco Seasoning(1) and Chipotle Taco Seasoning(1).


a Rafflecopter giveaway

**This giveaway is being sponsored by Nueva Cucina and the prize package will be sent to the winner courtesy of them.