Kellogg's Rice Krispies Gluten-Free has joined forces with Tricia Thompson, M.S., R.D., for Celiac Awareness month to debunk some of the gluten-free myths you may have heard.  The gluten-free diet has been in the news a lot recently, so it is important to make sure that the information we are hearing is correct.  Read on:
BATTLE CREEK, Mich., May 14, 2012 –Today, while "gluten-free" has become a household term, there are still countless myths that make it tricky for moms and their families to navigate a gluten-free lifestyle. This May, National Celiac Awareness month, Kellogg's® Rice Krispies® Gluten Free cereal asked dietitian Tricia Thompson, M.S., R.D., to bust these myths to help moms make gluten-free meal choices easier.

Three Popular Gluten-Free Myths

With much uncertainty surrounding the gluten topic, Thompson's myth-busting tips help moms feel assured that they're making good choices for their kids:

· Myth One: You always have to pay more for gluten-free products.

Gluten-free doesn't have to mean more expensive or a trip to a specialty store. For example, a box of Kellogg's Rice Krispies Gluten Free cereal costs the same amount as Kellogg's Rice Krispies and is sold alongside the original blue box.

· Myth Two: All gluten-free snacks for kids require extra attention from mom and dad.

Not all snacks require a lot of time and preparation. With many favorite products now available in gluten-free varieties, it's easy to whip up a quick gluten-free snack that the whole family will love, like Rice Krispies Gluten-Free Treats™.

· Myth Three: Food that's labeled "gluten-free" is healthy.

Not all gluten-free products qualify as healthy. When grocery shopping, look for gluten-free cereals, breads, and pastas that are made with gluten-free whole grains or have been fortified or enriched as they are good sources of iron and B vitamins, which may be lacking in gluten-free diets.

"There are ways to eat a gluten-free diet without sacrificing several nutrients, including fiber, iron, folate and niacin," said Thompson. "For example, a breakfast that includes a whole grain- or vitamin and mineral-fortified cereal, like Kellogg's Rice Krispies Gluten Free, served with sliced bananas and milk is a quick, healthy and delicious way for kids to start the day."

Kellogg's Rice Krispies Gluten Free Cereal

Moms on the hunt for tasty choices for their kid's gluten-free diet don't have to look further than the cereal aisle, where they can find Kellogg's Rice Krispies Gluten Free cereal. The gluten-free ingredients give family members with celiac disease the chance to enjoy one of their favorite cereals and snacks. It's also:

Made with whole-grain brown rice, eliminating barley malt (the source of gluten in the original cereal)
Made with three simple ingredients

· Fortified with 10 essential vitamins and minerals

Learn more about Kellogg's Rice Krispies Gluten Free cereal and find family-friendly gluten-free recipes at www.ricekrispies.com. Stay in touch on Facebook at www.facebook.com/ricekrispies.
Have you had a chance to try the new Kellogg's Rice Krispies Gluten-Free cereal?  If not, you can enter to win a "Gluten-Free Breakfast Kit" from Kellogg's valued at $70.00!  We love the Rice Krispies, especially in Rice Krispies Treats!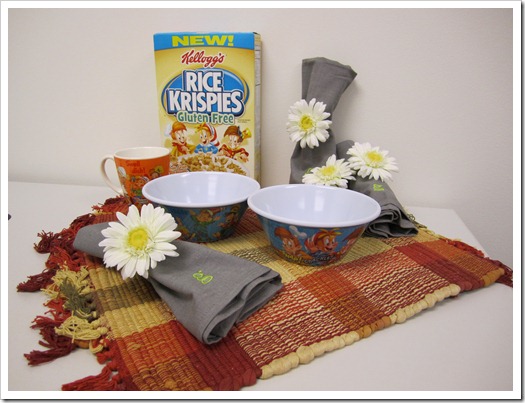 The breakfast kit includes:
One (1) "KELLOGG'S® RICE KRISPIES® GLUTENFREE
BREAKFAST KIT: one (1) nine-ounce box of Gluten-Free Rice Krispies ®, one (1) Kellogg's Rice
Krispies® Assorted Mugs, four (4) Linden Street Boston Checks Placemats from JC Penny, four (4)
Gerber Daisy White Napkin Rings from Crate& Barrel, one (1) Set of Monogrammed Napkins from West
Elm, and two (2) Rice Krispies Snap!™ Crackle!™ Pop!™ Bowls . Total ARV: $70.
To enter, you all have to do is simply leave a comment telling me your favorite way to eat Rice Krispies!  Giveaway will run until Thursday May 31, 2012 at 11:59 PM EST.  US residents only. Please read the giveaway rules for more specifics.
Good luck!!! 
Kellogg Company® has provided me with a Kellogg's Gluten-Free Breakfast Kit to conduct a reader giveaway. However, my opinions on the product are entirely my own and I have not been paid to publish positive sentiments towards Kellogg Company® or their products.