I had the wonderful opportunity to sample some more great fruit & nut bars in May.  Kit's Organic Fruit & Nut Bars, made by Clif Bar, just hit the market yesterday!  I was lucky enough to get to sample these before they hit the shelves and boy, do I love them!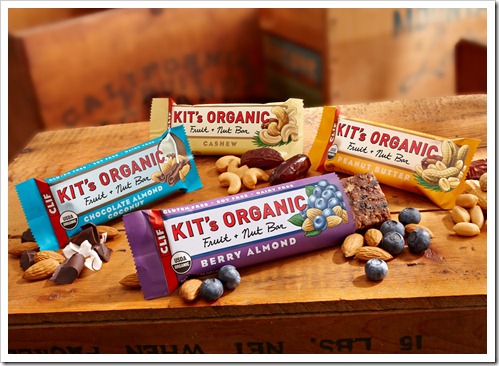 More about the new bars:
EMERYVILLE, Calif., May 31, 2012 – CLIF® Kit's Organic™, the new, simply delicious snack bar made with 100 percent organic fruit and nuts, is now on shelves nationwide in natural food and select grocery stores.

Inspired by Kit Crawford, co-CEO of Clif Bar & Company, Kit's Organic contains just a handful of simple ingredients. The bar's delightful blend of tender, organic fruit and crunchy nuts draws upon Kit's life experiences on her family farm and in her kitchen, where she developed a passion for organic ingredients and handcrafted food.

Kit's Organic is gluten-, soy- and dairy-free. The scrumptious snack bar comes in four delicious flavors, each offering a three-fourths serving of organic fruit and just 200 calories or less. In addition, Kit's Organic has no added sugar, is low glycemic and is a good source of fiber.

Clif Bar brings Kit's Organic, the newest in Clif Bar's portfolio of great-tasting food for people on the go, to consumers during its 20th anniversary year. "When I stepped back to think about what I'd want in a new snack, I knew it had to be organic, it had to be made with simple ingredients and it had to be delicious," said Crawford.

Kit's appreciation for organic food began at a very young age, when her parents instilled in her the values of growing your own food and caring for the land. Picking fruit right off the trees and enjoying long, leisurely family meals are the occasions that inspired Kit's Organic – simple moments and simple ingredients.

The four great-tasting flavors of Kit's Organic are Berry Almond, Cashew, Chocolate Almond Coconut and Peanut Butter. Like all food from Clif Bar & Company, Kit's Organic is free of trans fats, partially hydrogenated oils, high fructose corn syrup, artificial sweeteners, artificial flavors, preservatives and ingredients sourced from GMOs. Kit's Organic is available nationwide at natural food stores and in the natural aisle of select grocery stores (SRP: $1.59).
After trying all four of the bars, I love them all!  They each have qualities about them that I like.  I find these are great to keep in my purse for emergency hunger attacks – they don't melt in the heat, either! The ingredients are:
Chocolate almond coconut -Organic Dates, Organic Almonds, Organic Unsweetened Chocolate, Organic Coconut, Organic Virgin Coconut Oil, Sea Salt.

Berry almond – Organic Dates, Organic Almonds, Organic Barberries, Organic Bilberries, Sea Salt

Peanut butter -Organic Dates, Organic Peanuts, Organic Almonds, Sea Salt.

Cashew – Organic Dates, Organic Cashews, Organic Almonds, Sea Salt.
Have you heard about the new bars?  Have you tried them yet?
***These bars were sent to me free of charge for review purposes.  The thoughts and opinions shared here are mine and have not been influenced by anyone or anything.