Who doesn't like cake?  Wholesome Cravings combines protein and cake, which is a definite win-win in my book. 
More about Wholesome Cravings:
Mission Statement- Wholesome Cravings is passionate about producing delicious, healthy, all-natural and gluten-free products that embody the best in whole food nutrition. We use only high quality ingredients without preservatives, fillers or artificial sweeteners. We are committed to developing high nutrition food that satiates the cravings for sweets, snacks and treats without sacrificing health. Wholesome Cravings' unique line of gluten-free protein snack cake mixes and protein bars fill a void in the marketplace. Our protein bars and gluten-free mixes are high in protein and nutrition, and full of delicious home-baked taste. Now, you can have your craving and eat it too!
There are five varieties of the protein cake mix: Banana Chocolate Chip, Decadent Chocolate, Pumpkin Spice, Caramel Apple, and Apple Ginger.  I was able to sample the Banana Chocolate Chip.  The protein cake is super easy to make – I just had to add 2.5 bananas, 3 eggs and a sweetener of my choice.  The box recommended agave nectar, but I am out, so I used maple syrup.  I had a hard time letting these cool down before I cut into the pan to sample them.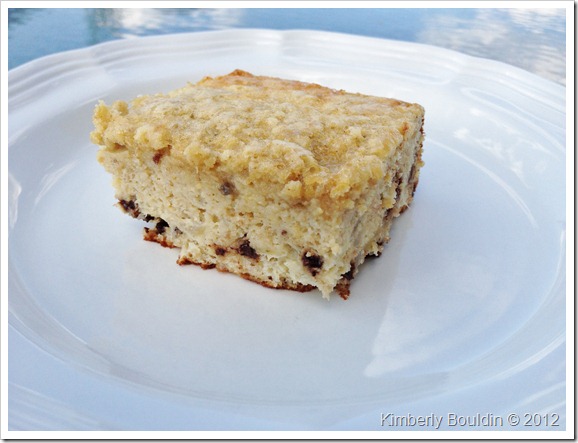 INGREDIENTS:

Whey protein, flaxseed, oat flour, chocolate chips (sugar, chocolate liquor, cocoa butter, soy lecithin, and vanilla extract), pure vanilla powder (dextrose and vanilla bean extractives), baking powder (sodium aluminum sulfate, sodium bicarbonate, corn starch, monocalcium phosphate), baking soda, salt. Contains: milk/dairy and soy.
Each bar (when cut into 7 servings) contains 190 calories and 11 grams of protein.  I was very impressed with the flavor and texture of this cake!  As I have said in the past, I am always looking for a good way to refuel after my runs and/or workouts and what better way then with a piece of cake?  The protein cake mixes are certified gluten-free, but while the premade bars are gluten-free, they are not made in a dedicated facility.
Are your Protein Snack Cake Mixes and Protein Bars gluten-free?

Our 5 flavors of Protein Snack Cake Mixes are Certified Gluten-Free and are made in a Certified Gluten-Free facility in Vermont. Our 5 flavors of Protein Bars are made without gluten but are not baked in a certified gluten-free facility.
The mixes can be purchased right from the website for $6.50 each.  There are also individual bars available for purchase on the website for $2.50 each.  Wholesome Cravings can be found in select stores in the state of Vermont. 
**This cake mix was sent to me free of charge for review purposes.  The opinions shared here are mine and have not been influenced by anyone or anything.