Staying cool is the name of the game right now.  Even if you are lucky enough to have power and air conditioning, it is still hot.  Here is our forecast for the next couple of days: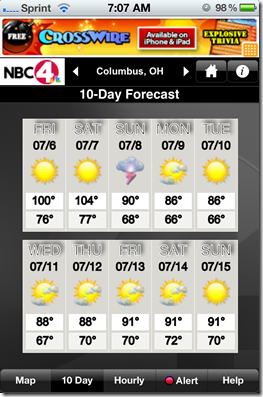 I didn't realize that Ohio had been relocated to the surface of the sun.  Fortunately it looks like the heat wave will be breaking Saturday night – high 80s will feel cool at this point! 
Some of the ways that we have been staying cool include going to the movie theater (Katy Perry's movie is on deck today), going to the library and hanging out on our leather couches in the A/C reading our books.  Hoping to get some pool time in next week when it cools down a bit!
Another way we have been cooling down is with these awesome beverages from Honest.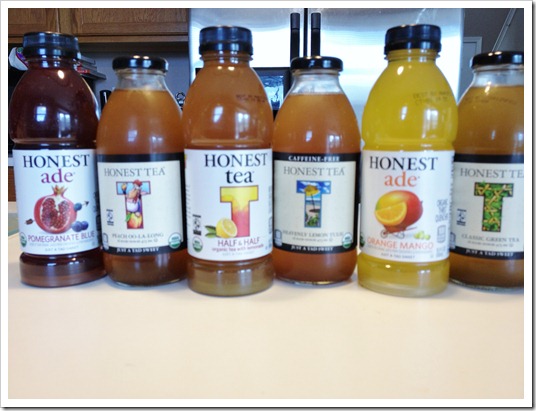 Honest has over 30 beverages with varying levels of sweetness.  More about Honest beverages:
All HONEST beverages are gluten & casein-free, organic, and contain no high fructose corn syrup
Honey Green Tea contains 190 mg of tea catechins, a beneficial antioxidant (and it was independently tested as having one of the highest levels of catechins of any bottled tea by Men's Health magazine)
Our beverages are not made in facilities that process gluten, dairy, soy, shellfish, peanuts, or tree nuts so there is no risk of cross-contamination

MISSION STATEMENT

Honest Tea seeks to create and promote great-tasting, truly healthy, organic beverages. We strive to grow our business with the same honesty and integrity we use to craft our products, with sustainability and great taste for all.

ASPIRATIONS FOR CORPORATE SOCIAL RESPONSIBILITY (CSR)

We will never claim to be a perfect company, but we will address difficult issues and strive to be honest about our ability or inability to resolve them. We will strive to work with our suppliers to promote higher standards. We value diversity in the workplace and intend to become a visible presence in the communities where our products are sold. When presented with a purchasing decision between two financially comparable alternatives, we will attempt to choose the option that better addresses the needs of economically disadvantaged communities.
A commitment to social responsibility is central to Honest Tea's identity and purpose. The company strives for authenticity, integrity and purity, in our products and in the way we do business. In addition to creating a healthy alternative beverage with a lot less sugar than most bottled drinks, Honest Tea seeks to create honest relationships with our employees, suppliers, customers and with the communities in which we do business.
While all of the samples that we received were good, I fell in love with the Peach Oo-La-Long and the Heavenly Lemon Tulsi teas!  In fact, I have purchased several more bottles of each when I found them at Earth Fare last week.  Jon preferred the Honest Ades to the tea, though he did like the Half and Half. 
To find Honest beverages near you, use this store locator or order online. 
Have you tried any of the Honest beverages?  Which one is your favorite?
**The products mentioned in this post were sent to me free of charge for review purposes.  The thoughts and opinions shared here are mine and have not been influenced by anyone or anything.