It is that time of year again: time to start obsessing about all things pumpkin.  Cucina Antica helped me kick off my obsession by sending me a Tuscany Pumpkin pasta sauce to review.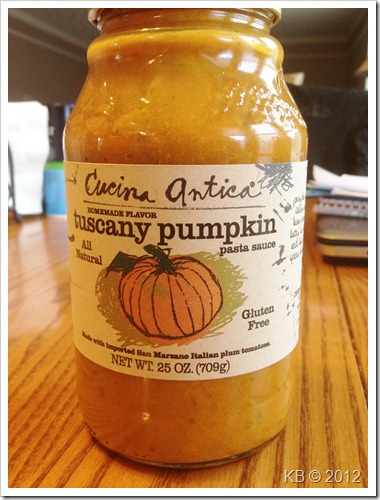 First and foremost, I love that the front of the label says "gluten-free" right on it!  Bonus points for not making me search the label or get online to find the answer.  Here is a little more about the Tuscany Pumpkin sauce:
Inspired by Italy's rustic harvest, Chef Neil Fusco brings you Cucina Antica Tuscany Pumpkin Pasta Sauce. His all-natural artisanal blend of peak harvested pumpkin, flavorful San Marzano tomatoes, and an aromatic combination of garlic, rosemary and sage, is simmered with a touch of cream and perfected small batches. With a delicate hint of honey and cinnamon, this soul-warming sauce achieves a well-balanced earthy character robust enough to be tossed with cheese ravioli, and yet light enough to drizzle over a sautéed medley of fresh vegetables. Simmer with cream for a Cream of Pumpkin Soup. The possibilities are endless with a sauce as savory and versatile as this!
I have really enjoyed playing around with this sauce!  The rest of my family refused to try it because they are freaks, and I mean that in the most loving way possible.  I enjoyed the sauce alone over fusilli brown rice pasta; I enjoyed it tossed with garbanzo beans over pasta; and lastly I enjoyed it as my sauce base on an Udi's gluten-free pizza crust that I finished off with arugula and goat cheese.  I know, right?  Absolutely amazing!  I was in pumpkin heaven!  This sauce is seriously the answer to any dreary fall or winter day.  If you can't smile after having a bowl full of yumminess with this sauce, I don't know what to tell you. 
More about Cucina Antica:
Our business is conducted so that it always gives the human person preference over any material gain. Although we recognize the importance of profits because they ensure the efficient operation of our business, for us making a profit means the following: to satisfy a true and authentic need at a just price (and with an awesome flavor)! Equally important, we seek to work with those in the various areas of production, sourcing, etc., that are respectful of the human person and are consciously good stewards of our earthly planet. At Cucina Antica, it is not just a way of doing business, but a way of life. In every jar of sauce, there is Quality, Pride and Integrity, and il sapore – THE FLAVOR ™!

At Cucina Antica, the value is in the people, from each employee to the customer who brings the sauce home for a delicious meal. Putting people first puts a great product on the shelf!

In summation, we at Cucina Antica want to do good for the common good. Chef Neil says "It is not what one can take from the table, but rather what good one can bring TO the table that makes the difference!"

Are your sauces gluten free?
Yes, they are certified gluten free. Please note that our production facility also produces products with nuts, wheat, rye, barley and oats, however our equipment is thoroughly sanitized to avoid cross-contamination.

Are your products vegan?
All red sauces, ketchup, extra virgin olive oil and pastas are vegan, the vodka sauces and dressings are not.

Are your products vegetarian?
Yes, all products are vegetarian.
The Cucina Antica products can be purchases in select stores and online.  I realize that $7.99 for a jar of pasta sauce is more than one would normally pay for a traditional jarred sauce, but if you want a special treat, this is the sauce to splurge on! 
*The product reviewed in this blog post was sent to me free of charge for review purposes.  The thoughts and opinions shared here are mine and have not been influenced by anyone or anything.