Last Sunday I ran the Emerald City Half Marathon for the second time.  Last year I tried to set a PR (personal record) in this race, this year I set out to do it as a training run, as I have 2 more half marathons coming up this fall.  Normally I run my long runs in the neighborhood of 10 – 10:15 minutes/mile.  I wrote a post last week about setting different types of goals that goes into this in much more detail.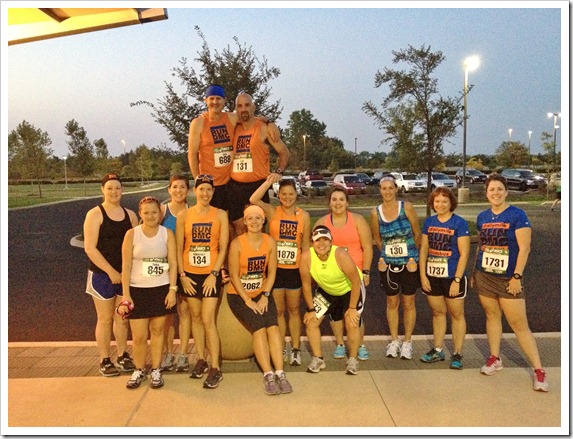 Before the race I met up with some friends from our Columbus Daily Mile group, Run DMC.  It was great to see so many from the group running this race!
The race started at 7 AM on the dot.  I was a little chilly before the race, but I knew that wouldn't last.  The first half of the half was relatively cool and the sun wasn't up yet, so it wasn't too hot.  Melissa and I tried our best to run slower than 10 min/miles, but found that we were consistently running slightly faster.  We slowed down when we noticed the pace was faster as to not overdo it.  The second half of the race was definitely hotter and a touch more challenging with some hills.  It certainly didn't help that there was no shade and the sun was beating down on us.  By the time we hit mile 11, I knew that we could keep the current pace (9:35 or so) and Melissa would PR.  We did just that and picked it up a little after we hit 12.5 miles and finished in 2:08:08 – a PR for Melissa by 2 minutes! 
This was my 8th half marathon and I managed to keep my average heart rate for this run in Zone 2, which is where is should be for a long, slow training run. 
Avg. HR = 145 (zone 2)
Splits:
1 09:53.9 HR 127 z1
2 09:54.6 HR 134 z2
3 09:54.7 HR 138
4 09:49.6 HR 144
5 09:58.2 HR 145
6 09:41.6 HR 145
7 09:49.5 HR 145
8 09:45.5 HR 147
9 09:38.9 HR 150 z3
10 09:39.1 HR 146 z2
11 09:29.5 HR 151 z3
12 09:33.8 HR 152
13 09:04.5 HR 159 low z4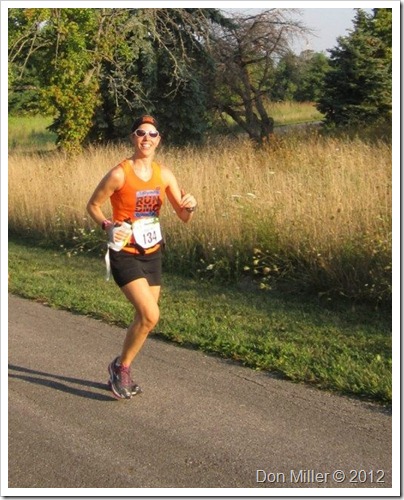 This was when I was wishing for a little shade, breeze, something!  Roughly around mile 9-10.  Form doesn't look too bad here, at least in my foot strike.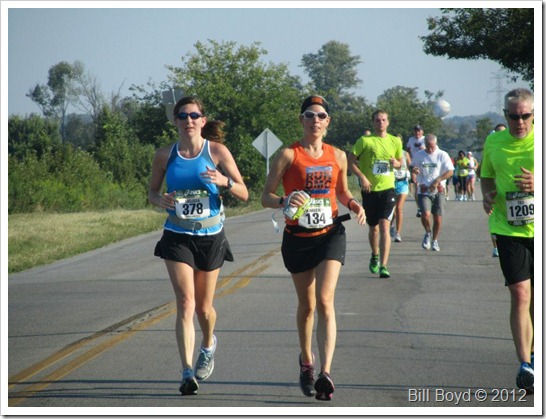 We mean business!  Mile 11 or 12.  A little heel striking going on here – shame, shame, Kim!  I have got to stop that!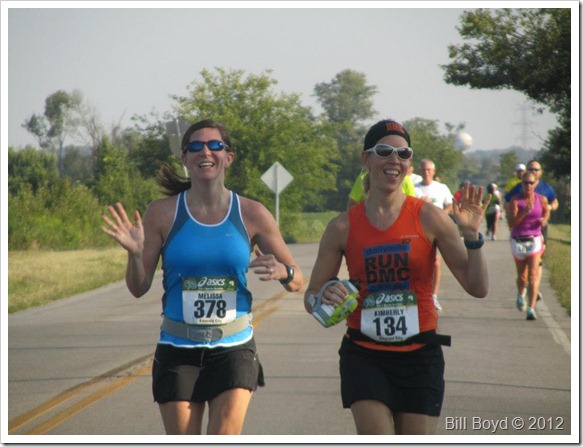 I love this picture!  LOL!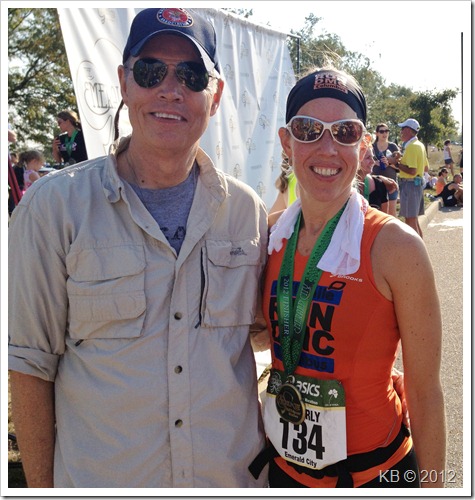 Dad and me after the race.  Loved the icy towels!  I was thrilled to see my Dad before the race as we lined up to start and then again once we were done!  Thanks, Dad, for the support!! 
A great day and a great "race!"  We didn't do too horribly bad at running this as a training run.  We showed restraint and averaged 9:40 minutes/mile.  We felt good and listened to our bodies = win!