Waffles make a quick and easy breakfast for both Jon and me.  It doesn't take much time to toss a couple of frozen waffles right into the toaster over while brewing coffee in my Keurig or slicing up some fruit.  Frozen Guru makes waffles that are free from:
gluten
flour
eggs
lactose
yeast
oil
preservatives
gums
fillers
At first I admit that I was a little skeptical about how these would taste, but I have quickly fallen in love! 
More about the waffles:
Our waffles are made using all-natural ingredients, with Non-GMO Tofu, Fruit, Chia Seeds, Flax Seeds and Gluten-Free Rolled Oats accounting for well over half of the total product weight. 

We produce waffles with the  lowest sodium, calories, carbohydrates and sugar largely because we do not add any sodium, oil or sugar… As much as we normally hate to boast, we probably should mention that our waffles possess some of the highest protein and fiber per serving as well.

Frozen Guru waffles are perfect on the go because they can be tossed into the toaster for a quick and healthy meal, or they can simply be thawed and eaten at room temperature.  To achieve these amazing results, we left out the primary ingredient in all current waffle products: FLOUR.  And voilà!  A healthy waffle product not high in anything at all (well, aside from protein & fiber).
I was very impressed with these waffles!  They were a little on the small side, so I worried about how long they would keep me full.  I ate them the same way that I eat the other gluten-free waffles – paired with the same food, same amounts – to get an accurate feeling of satiety.  I am thrilled to report that I felt full all morning and had plenty of energy to get me through until lunch time!  Each serving (2 waffles) contains 8-9 grams of protein and 5-6 grams of fiber with only 115-125 calories.  I topped my waffles with 1 tablespoon of Skippy Natural and a touch of blueberry fruit spread.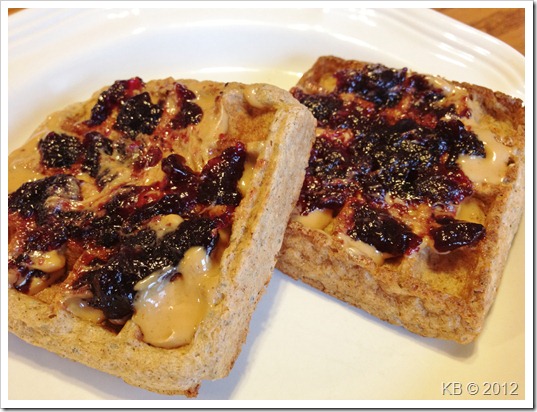 Not only did they keep me full, but they tasted great, too!  I think I liked the Coconut Chia best, but the Sweet Banana was also very good. 
Frozen Guru waffles can be found in select stores.  Hopefully they will be more widely available in the near future!
**These products were sent to me free of charge for review purposes.  The thoughts and opinions shared here are mine and have not been influenced by anyone or anything.