The Summer Olympics shed a new light on gluten-free athletes.  Over the past year or two there have been several athletes in the news touting the gluten-free lifestyle, though not always due to Celiac Disease. I love to hear about these athletes, not only because I am a runner, but because it always fascinates me to hear about the effects of removing gluten from an individual's diet.  Of course I always recommend seeing a doctor before starting the gluten-free diet, as testing for Celiac Disease must be completed before removing gluten from the diet in order for the results to be accurate.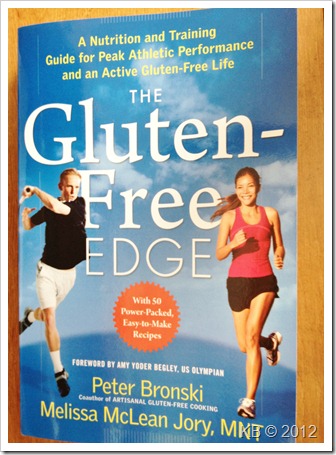 "The Gluten-Free Edge" is the newest book from Peter Bronski, Coauthor of Artisanal Gluten-Free Cooking, and Melissa McLean Jory, MNT.  This book is a wealth of information about gluten, why it makes people sick, "The Gluten Intolerance Spectrum" – from Celiac Disease to Wheat Allergy to Gluten Sensitivity to Everybody Else.  The book goes on to share why athletes should care about gluten, even if they are otherwise relatively healthy individuals.  There are stories from many athletes, including one from yours truly: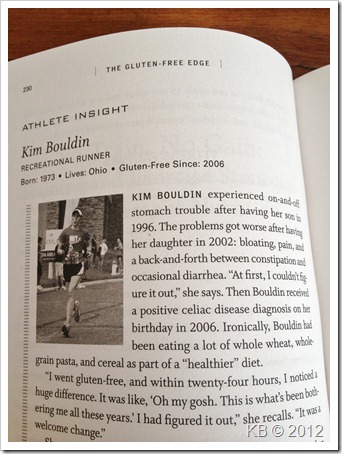 I was so flattered to be asked to share my story for this book!  I am having a blast reading about these fantastic athletes and their stories.   I have to admit that it is kind of cool to open up a book that one can find on the shelves of Barnes & Noble or Amazon.com and see your very own picture staring back at you!  The end of the book has numerous recipes, including my current favorite: Apple-Pecan Crumble – it just screams fall!
I am going to give one lucky reader a free copy of this book courtesy of little old me!  I appreciate each and every one of you more than you could ever know!  Without readers, my blog wouldn't be a blog – it would be a diary.  To enter to win, please follow the instructions in the Rafflecopter box below.
a Rafflecopter giveaway