Chocolate is one of my favorite foods.  There aren't many things that I will turn down if they have some kind of chocolate in or on them, gluten-free, of course.  NuGo Nutrition has some of the best protein bars on the market and they just made two more of their Dark Chocolate bars gluten-free!  The two newly gluten-free bars are the Mocha Chocolate and Chocolate Chocolate Chip.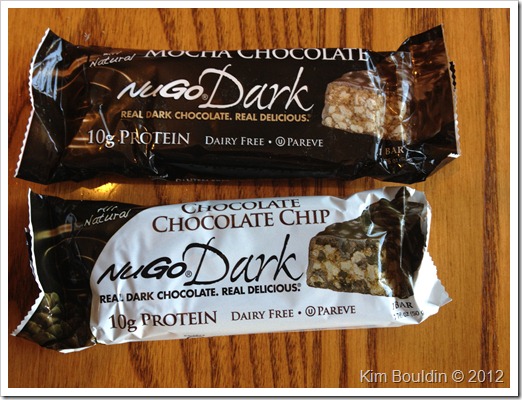 I ordered samples from the website – 3 bars (including the Dark Chocolate Mint bar that tastes like Thin Mints) for $6.00, including shipping!  I knew that I would fall in love with these bars, just like I had the rest of the NuGo Dark line.  The quality of the ingredients shines through in each bite.  While I love these new flavors, I adore the Dark Chocolate Pretzel and Dark Chocolate Mint.  I know what to ask Santa to put in my stocking this year!  The bars are also free of dairy in addition to gluten!
The newly gluten-free bars will be working their way into stores close to you, but please exercise caution.  Check the Mocha Chocolate and Chocolate Chocolate Chip bars to ensure that you have picked up the newly certified GF bars and not the older bars that are not gluten-free. 
One of the reasons I like the NuGo Dark line so much is because NuGo Nutrition uses real dark chocolate as opposed to fake dark chocolate made from vegetable oils (including palm oil).  The FDA currently doesn't have any standards in place for the labeling of dark chocolate, only for milk and white chocolate.  Dark chocolate has many health benefits and some consumers are being deceived by companies that are falsely labeling their products as containing dark chocolate, when they really contain fake dark chocolate.  NuGo has put together a petition to urge the FDA to stop the deception and require proper labeling. 
Check this out:
Have you tried any of the NuGo Dark bars?  Do you have a favorite?