The Holidays are here and the hustle and bustle have become a way of life.  As much as I like the idea of preparing everything from scratch, I must realize that I am not superwoman.  It has taken me some time to admit that I can't do it all.  But, now that I have, it is times like this that I like to depend on Udi's Gluten-Free products to help get me through the crazy busy times, which may include visits from unexpected guests or last minute parties.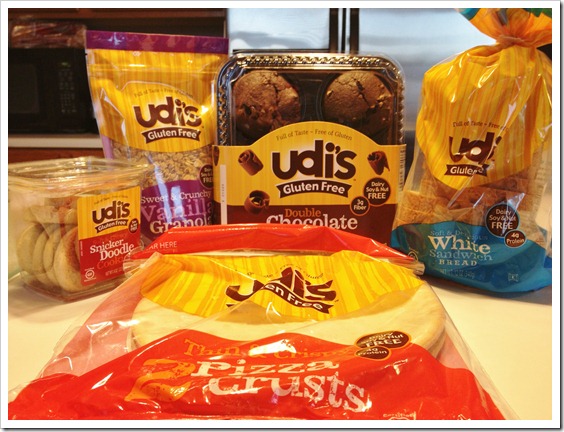 Udi's muffins, breads and pizza crusts keep nicely in the freezer.  They are great to keep on hand for last minute guests or functions where a gluten-free dish is needed.  The pizza crusts can be made into appetizer or dessert pizzas and then cut into bite-size squares.  The bread can be used to make a variety of sandwiches, then cut into quarters and placed on a plate for serving.  Muffins and Cinnamon Rolls are great for Christmas morning when the kids just want to get busy seeing what treats Santa left under the tree.  I like to gently heat the muffins in the microwave for a just-baked feel.
Double Chocolate Muffins
Blueberry Muffins
Lemon Muffins
Cinnamon Rolls
The Udi's line of cookies and brownies are great for plating for a Christmas Eve party or a school party for your gluten-free child.  There are several varieties:
Snickerdoodle – These remind me of my Mom's recipe!
Oatmeal Raisin
Chocolate Chip
Dark Chocolate Brownie Bites
If you are really short on time, pick up a frozen Udi's Gluten-Free Pizza for a quick dinner or appetizer for a Holiday party. We really like the Pepperoni and Margherita pizzas.  Udi's Gluten-Free products can be purchased online and in stores across the US.
Last, but not least, Udi's Gluten-Free is "Spreading the Joy".  Nominate your company to win an Udi's Cookie Jar filled with an assortment of gluten-free cookies so your friends and coworkers can see that gluten-free doesn't have to be tasteless!  Gluten-Free ROCKS! 
*The products mentioned in this blog post were sent to me free of charge for the purpose of writing this post.  The thoughts and opinions shared here are mine and have not been influenced by anyone or anything.