When I first shared my love of Thai Chile Salmon, I paired it with roasted potatoes and okra.  Recently I have been eating a lot of quinoa in an effort to eat more nutrient dense foods.  Low iron stores on my last blood work means more bison (higher in iron than beef), spinach and other leafy greens and subbing quinoa for brown rice.  Check out the comparison below.
Brown Rice – 1 cup:

Protein – 5 grams
Fiber – 4 grams
Calcium – 2%
Iron – 4%

Quinoa – 1 cup:

Protein – 8 grams
Fiber – 5 grams
Calcium – 3%
Iron – 15%
Instead of pairing the salmon with potatoes, I paired it with quinoa. The quinoa is very quick to cook by following the directions on the box with one change – I cooked the quinoa in canned lite coconut milk instead of water.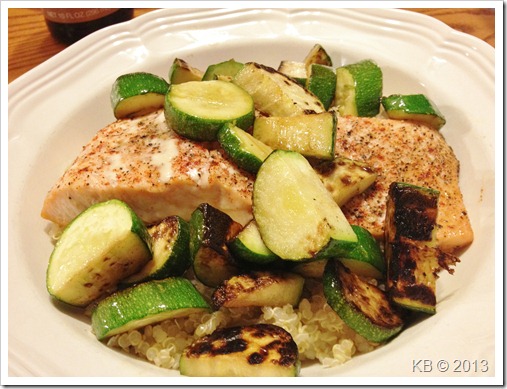 Sweet Thai Chile Salmon

Trader Joe's Sweet Thai Chile Sauce
Salmon
Paprika, Salt & Pepper

1.  Pour 1TBSP or so sweet Thai chile sauce on each piece of salmon

2. Sprinkle salmon with paprika, salt and pepper.

3.  Bake at 375 for 12 min or so.

4.  Broil for 1-2 minutes.

5.  Be careful not to overcook.
In order to add some veggies to my dish, I sauteed some sliced zucchini for 10-12 minutes and placed on top of the quinoa and salmon in a bowl.  This was perfect!  I can't wait to have it again soon!