Southwestern Fajita Quiche
We all know that breakfast is the most important meal of the day—it jumpstarts your metabolism and gets your brain ready for the day. But when your breakfasts consist of the same old cereal, bagels or granola bars every morning, it's easy for the most important meal of your day to turn into the most boring meal of your day.
To keep your body wanting to eat breakfast, experiment with easy breakfast recipes that are a little more interesting than simply a bowl of fruit or cereal. Breakfast foods aren't limited to cereal bowls; savory options like quiches and frittatas, and even leftovers from dinner the night before, can help get your morning off to a good start. Spend a couple extra minutes at the stove or the oven in the morning—plenty of good, hearty breakfast recipes don't require hours of time and your body will thank you for the extra effort!
This easy Southwestern Fajita Quiche from Egg Beaters® is an excellent healthy breakfast or quick dinner option. It's made with egg substitute which are lower in fat and calories than shell eggs, plus it's filled with onion and two types of peppers. Add corn tortillas and some lean chicken for protein, and you have an easy recipe that can be eaten for breakfast, lunch or dinner.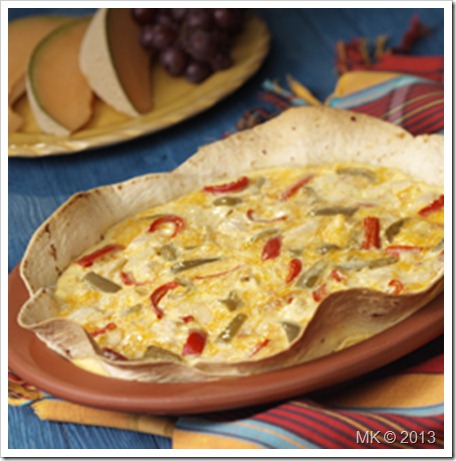 Southwestern Fajita Quiche from Egg Beaters®

· PAM® Original No-Stick Cooking Spray

· 1/4 pound boneless skinless chicken breast, cut into 1/2-inch pieces

· 1/2 red bell pepper, cut into 1-inch strips (1/2 pepper = about 1/2 cup)

· 1/2 green bell pepper, cut into 1-inch strip (1/2 pepper = about 1/2 cup)

· 1 small onion, cut into 1-inch strips (1 small = about 1/3 cup)

· 1 cup Egg Beaters® Southwestern Style (1 cup = 8 oz)

· 1 cup fat free milk

· 1/2 teaspoon ground cumin

· 1 cup shredded reduced fat Mexican cheese blend (1 cup = 4 oz)

· 4 gluten-free corn tortillas (8 inch)

Preheat your oven to 350°F. Spray a medium skillet with cooking spray. Heat over medium heat.

Add the chicken; cook and stir 3 minutes or until chicken is no longer pink. Stir in bell peppers and onion; cook and stir for 2 minutes or until vegetables are crisp-tender.

Combine Egg Beaters, milk and cumin in a large bowl. Add cheese and mix lightly. Stir in chicken mixture.

Spray a 9-inch pie plate with cooking spray. Place tortillas in the pie plate to form crust, evenly overlapping each other. Carefully pour Egg Beater mixture into the tortilla crust. Bake for 40 minutes or until a knife inserted into the center comes out clean. Cool on a wire rack for 10 minutes before serving. Serve with salsa and low-fat sour cream, if desired.
Author Bio: This is a guest post by Meredith K. on behalf of Egg Beaters®, a producer of gluten free food products. For more easy recipes made with gluten-free foods from easy breakfasts to low calorie desserts, visit www.eggbeaters.com.