Good gluten-free pizza was once hard to find.  These days options are sprouting up all over the place and we finally don't have to settle on a mediocre pizza just so we can have pizza.  I have friend that works for Donato's Pizza that I run with in MIT.  I have been asking her for a while when they were going to start offering a gluten-free pizza with a crust and knew that it was being discussed, but wasn't sure exactly what would come about.  Donato's has offered a "No Dough" pizza for as long as I have been gluten-free, but I was never overly fond of it, though Donato's was once my pizza of choice before I began the gluten-free diet.  Jon used to eat the "No Dough" pizza, but once other local and chain establishments began to serve gluten-free pizza with a crust, it was hard to order the "No Dough" pizza and feel satisfied.
Just last week I got the word that Donato's had indeed made a gluten-free pizza for their "Take & Bake" line to be carried in Kroger stores.  The regular line has been in Kroger stores for years and now will offer three different gluten-free options.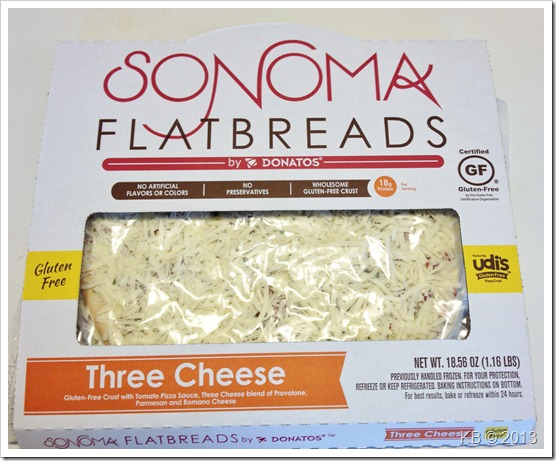 These flatbreads and pizzas utilize contemporary flavors and simply honest ingredients. We use only rBST-free cheese, as well as nitrate-free and preservative-free ingredients. Simply delicious!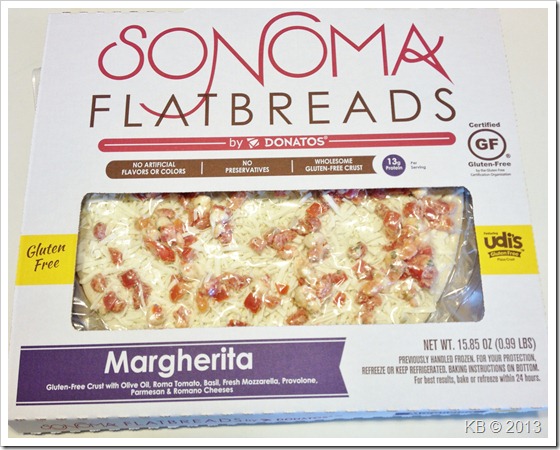 Jane's Dough, a subsidiary of Donato's Pizza, mass produces pizza dough and pizza products in the Columbus area.  More about Jane's Dough:
Named after Jane Grote Abell, Jane's Dough Foods was established in 2008 to mass produce consistently excellent dough and pizza products. Having recognized that the pizza manufacturing industry was focused on speed first and quality second, the company instead built on its history and culture to deliver better tasting products with quality as the primary concern. Sharing its headquarters with its parent company, Jane's Dough Foods is growing rapidly as it expands in retail supermarkets, membership clubs, c-stores, food service, and contract packing.
Jane's Dough contacted me to see if I would be interested in sampling and reviewing the new gluten-free Sonoma Flatbread pizzas.  Of course I jumped at the offer and was thrilled when the package showed up on my doorstep late last week on a particularly stressful day.  At least I could solve my dinner problems easily on that day!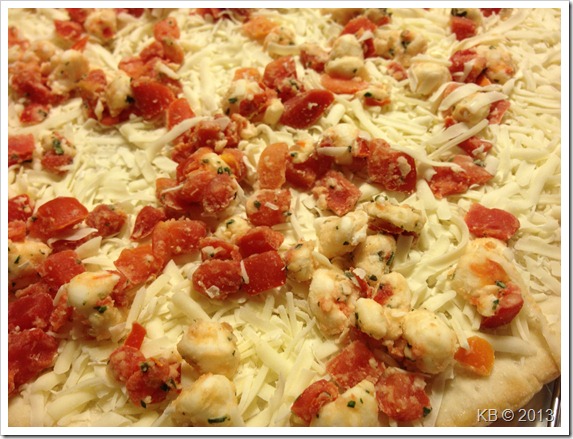 The Margherita Pizza ready to go into the oven.  The baking instructions recommend baking directly on the oven rack.  I opted to use a cooling rack that I use for cookies on top of a foil-covered pizza pan because Aaron will place non-gluten-free pizzas on our oven racks.  The pizza was ready in roughly 10-12 minutes at 400 degrees.
After baking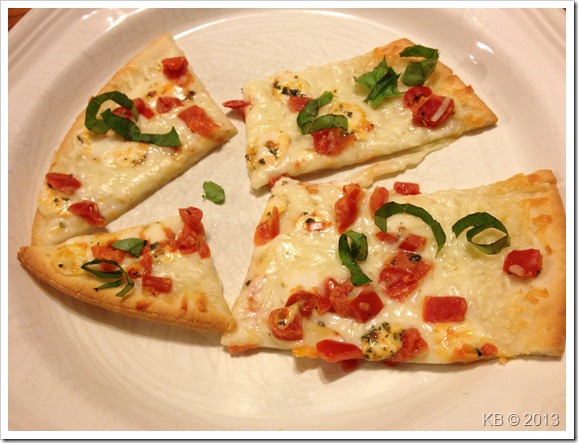 Of course I had to cut the pizza the way Donato's traditionally slices their pizzas, because how could I not?  I added fresh basil because I am addicted.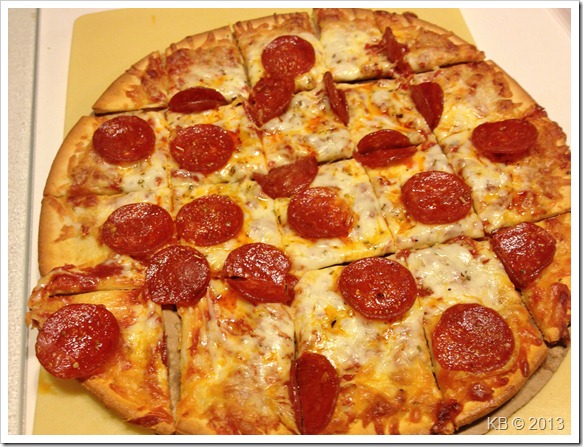 The pepperoni pizza sliced and ready to be inhaled.  Are you drooling yet?
I know you have heard it before, but this time I really mean it, this is the best gluten-free pizza we have ever tasted!  I really, really, really mean it!  The search is over!  Yes, there are some other excellent gluten-free pizzas out there in Columbus and across the United States, but having been a huge Donato's fan before going gluten-free and being able to have a gluten-free version…this is perfection!  Jon oohed and aahed and agreed 100%!  The crust is thin, with a crisp and chewiness that we have missed.
What makes these pizzas even better is the gluten-free certification by the GFCO.  Udi's Gluten-Free pizza crusts supply the base, and are larger than the crusts we are used to seeing from Udi's.  These pizzas serve 4 people each!  Okay, if you have a bigger appetite, maybe only 2 people.  When I eat a pizza made with a store bought Udi's Gluten Free crust, I typically eat the whole thing.  I only ate half of the Margherita Pizza, though my mouth wanted more.
The Uncured Pepperoni and Margherita pizzas can be found in many Ohio Kroger stores in  "Nature's Market" (natural and organic / frozen section) starting January 2, 2013. The stores should be set by January 8. They are sold refrigerated and can be kept that way for 24 hours or frozen for use after that and retail for $8.99, which is an amazing deal for a gluten-free pizza of this size!
Do you have a favorite gluten-free pizza?  Have you found anything that rivals your favorite non-gluten-free pizza or are you still looking?  I can finally say that for us, the search is over. 
Editing to add more from the distributor:
Thank you for your feedback! I'm happy to hear you enjoyed them so much! My name is Collin and I work on the sales side of Janes Dough Foods.

The Gluten Free Sonoma line is currently available in the FREEZER section of Kroger's Nature market.

We are bringing on new local retailers everyday and will do our best to keep everyone informed..

The Anderson's General Store(s) should have them in as early as this weekend.

Enjoy!

Collin
*These pizzas were sent to me free of charge for review purposes.  The thoughts and opinions shared here are mine and have not been influenced by anyone or anything.