Cold winter mornings are the perfect time to wake up slowly, drink a cup of piping hot coffee and enjoy a warm bowl of cereal.  I like gluten-free oats, but was intrigued when I heard about Cocomama Quinoa Cereal.  Sure I have made my own version of quinoa cereal in the past, but I loved the convenience of the Cocomama cereals. 
More about Cocomama:
In 2008, Sara Gragnolati discovered she had food allergies. So she decided to take charge when her taste buds were appalled by the gluten-free offerings on the market. She discovered ingredients like quinoa and amaranth and wondered why very few packaged foods took advantage of these versatile and nutrition-packed foods. Thousands of years ago, these energy-inducing super proteins were considered sacred. (True story.)  Thus, Cocomama was created.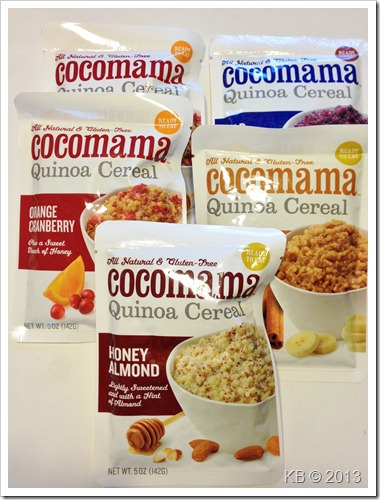 There are four varieties of Heat & Eat Quinoa Cereals:
Honey Almond – water, coconut cream, organic quinoa, honey, cranberries, orange juice, natural flavors, sea salt

Orange Cranberry – water, coconut cream, organic quinoa, honey, kaniwa, natural flavors, sea salt

Wild Blueberry – water, wild blueberries, coconut cream, organic quinoa, pure maple syrup, natural flavors, wild blueberry powder, lemon juice, sea salt, cinnamon

Banana Cinnamon – water, banana puree, coconut cream, organic quinoa, pure maple syrup, natural flavors, cinnamon, sea salt
More about the quinoa cereals:
Enjoy a wholesome meal wherever life takes you. Cocomama's innovative packaging makes it easy to eat healthy on the go. There's no preparation required—all of our Quinoa Cereals are fully cooked in a nutritious, light coconut milk and sweetened with all natural sweeteners and real fruit. We've done all the work, all you have to do it simply tear open the pouch, stir (heat, if you want it warm) and enjoy as snack or a meal.
Each pouch of cereal contains between 210 and 240 calories, 4-5 grams of protein, 2-3 grams of fiber and 8-10 grams of fat.  It doesn't get much easier to eat a healthy breakfast than this, folks.  If you have the luxury of being at home to make breakfast, you can probably do so a little cheaper, but if you don't have that luxury, and are always on-the-go, these are perfect!  I tried the cereals both ways – cold and warm –and while I prefer them warm, that is just my preference.  I was unsure about these pouches of cereal keeping me full until snack or lunch time. I was pleasantly surprised to see that I lasted 3+ hours! Not only are these filling and satisfying, but they taste great, too!  I love the simple list of ingredients, although I am not going to lie, I did have to Google "kaniwa".  Turns out is a close relative of quinoa, but doesn't have the saponins, which is the outer coating that gives quinoa that soapy/bitter flavor if not rinsed well.  Huh…I always say you learn something new every day!  
Cocomama Quinoa Cereal can be purchased directly from the Cocomama website or Amazon.com. 
*These products were sent to me free of charge for review purposes.  The thoughts and opinions shared here are mine and have not been influenced by anyone or anything.