I knew it was only a matter of time before Udi's Gluten-Free launched gluten-free tortillas.  They've really cornered a large part of the gluten-free baked goods/bread market in the past few years.  Gluten-free tortillas have been available for a while, but there is something really special about the new tortillas from Udi's.  Yes, they still need a little warming in the microwave to become pliable, but they are probably the closest thing to real, non-gluten-free tortillas that I have tried.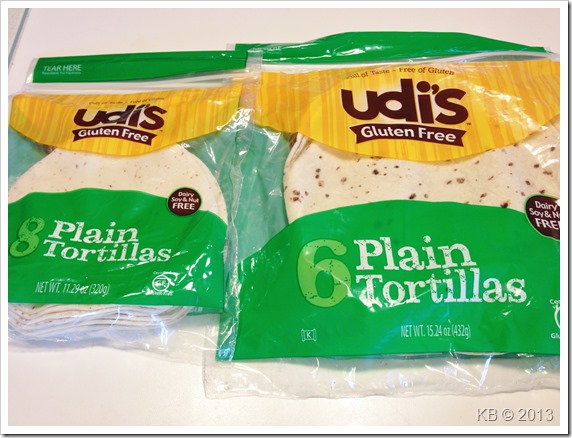 The new tortillas come in 2 different sizes – small ($4.35/pack), taco size and large ($5.20/pack), burrito size.  The tortillas are free of dairy and soy in addition to gluten.
INGREDIENTS: WATER, TAPIOCA STARCH, MODIFIED POTATO STARCH, SWEET RICE FLOUR, SUGARCANE FIBER, TAPIOCA SYRUP, PALM OIL, EGG WHITES, PEA PROTEIN, TAPIOCA MALTODEXTRIN, GLYCERINE, CANE SYRUP, GUM (XANTHAN GUM, SODIUM ALGINATE, GUAR GUM), CELLULOSE GUM, CULTURED CORN SYRUP SOLIDS AND CITRIC ACID (NATURAL MOLD INHIBITOR), SALT, LACTIC ACID, ENZYMES, FUMARIC ACID.
CONTAINS: EGG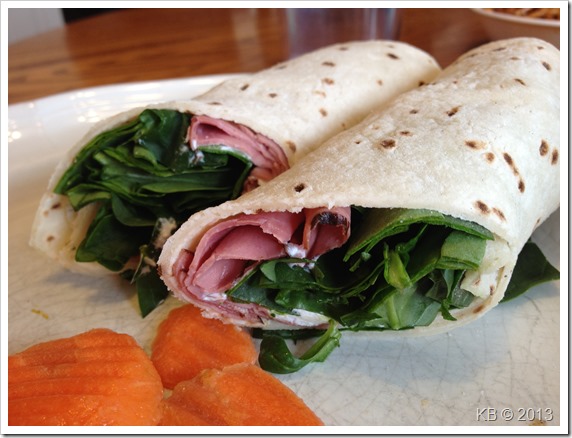 Ham & Goat Cheese Wrap (with spinach and spicy brown mustard)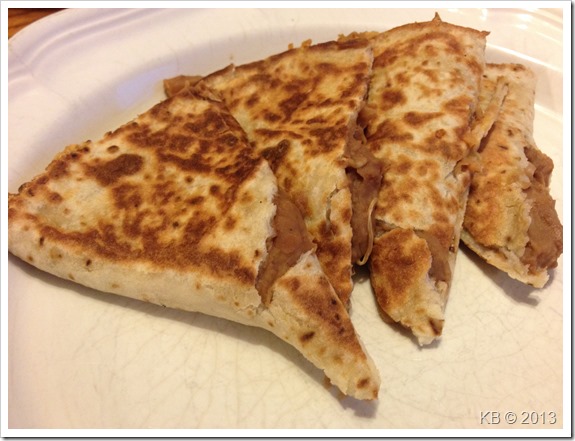 Bean & Cheese Quesadilla
I have truly fallen in love with these tortillas and I can't wait until I can find them locally in stores!  I can think of so many more ways to use the tortillas, including Chimichangas, Burritos and Chicken Enchiladas.
Single Serve Quesadilla

INGREDIENTS:
1 Udi's Gluten Free Flour Tortilla, Large
1 tsp, vegetable oil
½ cup shredded cheese, preferably cheddar or Mexican blend.
Optional Extras:
½ cup diced chicken
¼ cup diced tomatoes
¼ cup chopped onions
1 T sliced olives
1 T diced mushrooms
DIRECTIONS:
1. Brush skillet with 1 tsp vegetable oil and heat to Medium-High.
2. Place Udi's large tortilla in pan. Layer with a thin layer of cheese, leaving about 1/2 inch
around edges.
3. Personalize quesadilla with thin layer of optional ingredients, if desired.
4. Fold quesadilla in half and let it cook in the pan 1-2 minutes until slightly brown underneath
before turning to brown the topside.
5. Slide onto plate and enjoy!

About Udi's Gluten Free Foods:
Udi's is determined to show you a new way to approach gluten free living. Don't waste another bite on
bland, crumbly, and tasteless food. We create delicious products that will fill your stomach and warm your
soul. We revolutionized the gluten free category by introducing the first gluten-free bread that tastes and
looks like 'real' bread. Thanks to our loyal customers, Udi's is the #1 gluten-free baked goods brand!
Udi's Gluten-Free products can be found in grocery stores across the US and online.  Have you found or tried the new Udi's tortillas yet?
*I was provided free samples of these tortillas for review purposes.  The thoughts and opinions shared here are mine and have not been influenced by anyone or anything.