Do you like Thai food?  I don't think I had really given it much of a shot until I started the gluten-free diet and I had to open my mind to new foods.  While I had expanded my taste palate as I aged, Thai food was just one of those things that I hadn't sampled.  Another bonus about Thai food?  A lot of it is naturally gluten-free.
Once I began following the gluten-free diet, I was grasping for straws for foods I could eat that I enjoyed. I, like most people who have to eliminate gluten from their diet, didn't want to feel like I was missing out.  The Thai food cuisine often uses rice noodles, which are gluten-free, as a base for many dishes.
Want to say goodbye to pricey Thai restaurants, takeout or delivery?  Thai Kitchen has a wide variety of gluten-free products to help you do just that!  More about Thai Kitchen:
We couldn't seriously call ourselves Thai Kitchen if we weren't committed to making nothing but the most authentic Thai food. There's no faking it. We're about providing the best Thai food experience available to anyone, anytime, without compromising quality for convenience. That's why we use only fresh, natural ingredients selected at harvest for their quality and flavor. With Thai Kitchen, you can say goodbye to Thai food delivery and pricey restaurant meals.
Make sure to check out the gluten-free recipes page for inspiration!  I love Pad Thai, and it is so easy to enjoy with the Peanut Noodle Kit!  Talk about fast and easy – much faster than ordering take-out or delivery Thai!  I also enjoy using the Thai Kitchen rice noodles for my own "kitchen sink" noodle bowls.  I enjoy picking a protein, veggies and a sauce to stir into a bowl of noodles.
Thai Kitchen has graciously offered to send one lucky reader a package of gluten-free products.  The giveaway package will include:
1.       Thai Kitchen Thai Peanut Noodle Kit
2.       Simply Asia Singapore Street Noodles, Classic Curry
3.       Simply Asia Singapore Street Noodles, Kimchi
4.       Thai Kitchen Red Rice Noodles
5.       Thai Kitchen Organic Lite Coconut Milk
6.       Thai Kitchen Peanut Satay Sauce
7.       Thai Kitchen Premium Fish Sauce
8.       Thai Kitchen Spicy Thai Chili
9.       Simple Asia clip
10.    Thai Kitchen magnet
11.    Recipe pack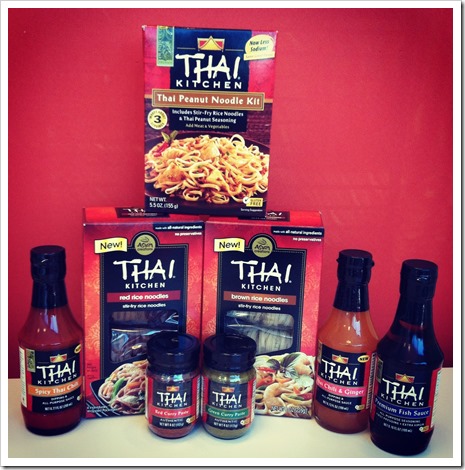 All you have to do to enter is follow the directions in the Rafflecopter box below.a Rafflecopter giveaway

*The products for this giveaway are being supplied courtesy of Thai Kitchen.  I did receive products free of charge for my own sampling, though the thoughts and opinions expressed here are mine and have not been influenced by anyone or anything.