Williams-Sonoma is one of my favorite stores to hit when I visit the mall.  I don't always buy something when I visit, but I love "window shopping".  I could spend hours flipping through the cookbooks and checking out the nifty kitchen gadgets.  Once Williams-Sonoma began offering gluten-free baking mixes, my visits became a lot more fun.
Williams-Sonoma is getting ready to release a brand new cookbook – Weeknight Gluten-Free, Simple, Healthy Meals for Every Night of the Week.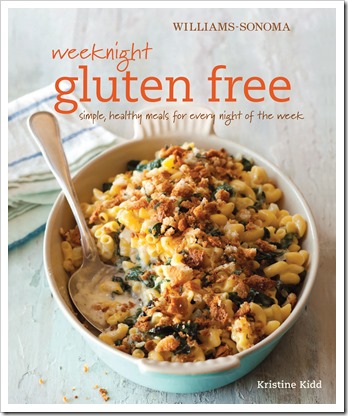 More about the cookbook:
More and more people are going gluten free—even superstar chef Thomas Keller is customizing his recipes with a nod towards the benefits of cooking without gluten. Bestselling food writer and editor Kristine Kidd and Williams-Sonoma have teamed up to bring you gluten-free recipes that add to your health without sacrificing the flavors you love.

This is not a book full of recipes that simply substitute "other flours" for wheat flour, resulting in a dish that doesn't quite taste how it's meant to taste. This is a solution-oriented cookbook filled with the best naturally gluten-free recipes and over 80 meals for any night of the week.

Weeknight Gluten Free chapters include:

·         Quick tips to help home cooks through busy weeks, including timesavers, ingredient substitutions, and making enough for leftovers

·         A list of favorite gluten-free products and tips for stocking the pantry

·         Gluten-free staples that can be used for many variations; items like egg crepes, cornmeal pizza crust, creamy polenta, fluffy quinoa, and easy mashed potatoes

·         Seasonal recipes that take inspiration from fresh produce throughout the year

·         Sweet and simple desserts that are naturally gluten free

  Like other special diets, gluten-free cooking is for people making healthy choices about what they want to eat. However, it does take some planning and education to pull off a gluten-free menu that doesn't feel like it's "missing something." Weeknight Gluten Free solves these common issues for the frustrated reader, taking the guesswork out of cooking gluten-free food that retains all of its original character.

As the food editor of Bon Appétit magazine for over 20 years, Kristine Kidd has a deep sense for what makes a balanced and satisfying dish that's a snap to whip up. Don't miss this sequel to bestselling companion Weeknight Fresh & Fast, and get Weeknight Gluten Free for a straightforward approach to gluten-free cooking that you've been waiting for.
The new cookbook will be available in April 2013 and will retail for $29.95 on the Williams-Sonoma website.
I was fortunate to receive an advance copy of the cookbook to read and review.  I immediately fell in love with the cookbook!  The cookbook is chock-full of stunningly gorgeous photographs of the recipes, enticing me to make each and every one of them!  Dishes that may not have interested me in the past were begging to be tried.  Some of the recipes I really enjoyed were:
Black Bean & Feta Quesadillas
Grilled Eggplant Tomatoes & Goat Cheese
Polenta Pizza Crust
Sesame-Ginger Noodles with Chicken and Vegetables
Chopped Salad with Chicken, Citrus and Avocado
Chinese-Style Peanut Noodles with Seared Beef
About the Author

As the food editor of Bon Appétit magazine for more than 20 years, Kristine Kidd was responsible for filling its pages with delicious recipes and keeping her devoted readership up to date with evolving food trends. Based in Los Angeles, Kidd has written five cookbooks and is regularly sought out as an expert on home cooking.

About Weldon Owen

Weldon Owen creates visually splendid, mind-expanding books that nurture a wide range of readers' passions, be they practical, creative, adventurous, or all-out fun. We illustrate great ideas, break down complex skills so anyone can learn them, and entertain and inspire along the way. Most of all, we love to create beautiful books that make you want to pick them up and are tough to put down. Weldon Owen is part of the Bonnier Corporation, the U.S. division of Bonnier AB, a family-owned multichannel media company founded in 1804 and based in Sweden. This makes us the sister company to over 50 leading magazines devoted to connecting people to their passions, including Field & Stream, Parenting, Popular Science, Outdoor Life, Saveur, Popular Photography, and Working Mother (to name just a few).
One lucky Gluten-Free is Life reader will win their very own copy of this gorgeous cookbook!  All you have to do to enter is follow the instructions in the Rafflecopter Box below.
*The review and giveaway cookbooks were supplied free of charge for review purposes.  The thoughts and opinions shared here are mine and have not been influenced by anyone or anything.