Most runners prefer to run outside and not on the dreadmill treadmill.  Since I am one of those runners that much prefers to be outside, Aaron questioned my sanity when I purchased a treadmill a couple of months back.  "You hate the treadmill!", he said.  Yes, I do, but I hate not running more.  So, when Mother Nature continues to toss inclement weather our way, I head to our playroom and hop on the hamster wheel.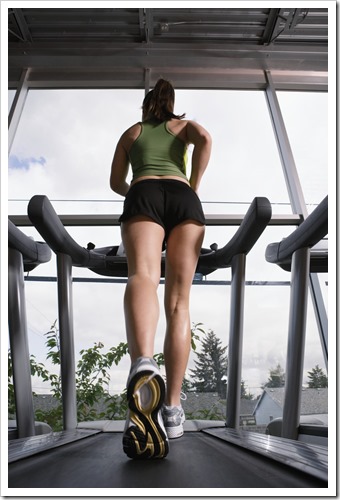 I don't mind running in the rain.  I don't mind running in the snow.  What kind of weather do I mind running in?  Ice and high winds, both of which we have seen our fair share of this winter.  Today is the first day of Spring, but you wouldn't know it by our forecast.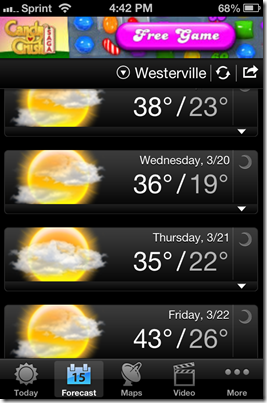 Since it was cold with higher winds yesterday I headed to the treadmill with my iPad and turned on this week's Dancing with the Stars episode.  I have to admit that it didn't really keep my attention, as I found my mind drifting.  As my mind was wandering from topic to topic, I thought I would share a post about things you can do to make it through a boring treadmill run.
1.  Watch TV or a movie.  I opt for my iPad and watch shows that I need to catch up on.  This is usually good for filling up 45-50 minutes of time or 4-5 miles.  It is important to pay attention to form when choosing this option.  I find myself having to look down to see the screen which in turn brings my shoulders down and hips back. 
2.  Visualization.  I try to zone out and pretend I am someplace else for my run. Varying the incline and speed can help you feel like things are changing.  I usually visualize my outside route in my head – for example if I am running 4 miles on the treadmill, I think about where I would be outside at that corresponding point in my run.  It really helps!
3.  Break up your run with other exercises.  Hop off the treadmill after each mile and do push ups, burpees, crunches, planks, etc.  This helps break up the monotony and gives you something to look forward to each mile.  Ha ha… who thought we might find ourselves looking forward to burpees!  Don't forget to grab a drink of water or sports drink before you hop back on the treadmill.
4. Form.  Focus on your form.  Proper running form can make all the difference.  Not only will proper running form make you more efficient, but it can help prevent injuries as well.  Since running on the treadmill is often boring and monotonous and aside from making sure you don't fall off, there aren't a lot of distractions.  Try checking in with your body and form consistently through your run. Pay close attention to the times when your form begins to suffer, which tends to be when you start to get tired.  For more info on running form, check out the New Balance Good Form Running website.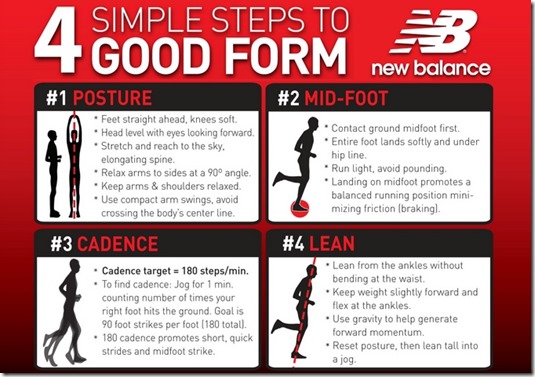 (source)
5.  Playlist.  Nothing inspires me more than a new playlist for my run!  If you know your playlist by heart, it is time to make a new one.  If you are at a loss for motivating tunes, ask your friends on social media what they are listening to. 
6.  Intervals.  This kind of goes along with breaking up your run.  Warm up for a mile, then play around with speed and/or incline.  Try running hard for 1 min and then recovering for 1-2 minutes.  Runner's World lists four different treadmills workouts here for more inspiration.
7.  Audio Books.  I never thought I would enjoy listening to audio books.  Don't knock it until you try it.  This is a great way to pass time on the treadmill and keep up on all of the books on your "to read" list.  There are several different ways to listen to audio books.  Audible is a paid service, but often times you can borrow audio books and upload them to iTunes or access them from your computer and then transfer to your phone/iPod.  
8. Company.  Enlist a friend to join you at the gym on side-by-side treadmills and catch up while logging your miles.  If you don't belong to a gym, try a virtual challenge of some sort.  Right now I am participating in the #iHeartOmron Running Challenge preparing to run a virtual 5K on March 30, 2013.  There are all kinds of challenges out there to help keep your motivation going! #Mamavation is a great place to look for challenges in addition to many other places on the web. 
How do you get through tough treadmill workouts? 
*This post is sponsored Omron Fitness as a collaboration with Bookieboo Blogging Network and Mamavation – a community dedicated to weight loss for women andobesity prevention for families. I was provided with product and compensation for my time and honest opinions.