Breakfast is the most important meal of the day.  I am sure you have heard that before, right?  I used to skip breakfast and looking back now, I don't know why I did that or how I made it through the morning.  Now wonder I was starving my 11:00 AM!  Now that I am older (and hopefully wiser), I realize the importance of a well-balanced breakfast.  My breakfasts often consist of a bowl of fruit balanced out with a healthy dose of protein and fiber.  In addition to helping me power through my mornings, I am hoping to set a good example for my kids. 
Jon's idea of breakfast is a bowl of Fruity Pebbles = too high in sugar and low in protein to get anyone through a long morning.  When I received samples of al fresco's new Chicken Sausage Breakfast Patties I wondered if I could get him to eat a protein-packed breakfast sandwich instead.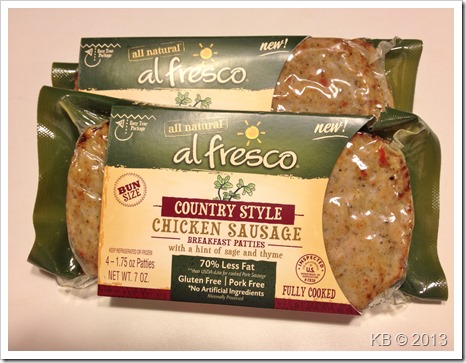 Some more information about al fresco's new breakfast patties:
· al fresco introduced the breakfast patty in response to customer requests for a sausage that can be easily incorporated into breakfast sandwiches.

· The 1.75-ounce breakfast patty is "bun sized" and comes fully-cooked for a quick, healthy morning option.

· Like all al fresco products, the chicken sausage breakfast patty contains no artificial ingredients, nitrates, MSG, nitrites or preservatives.

Ingredients: Skinless chicken meat, contains 2% or less of water, salt, sugar, spices, sage, thyme, natural flavorings.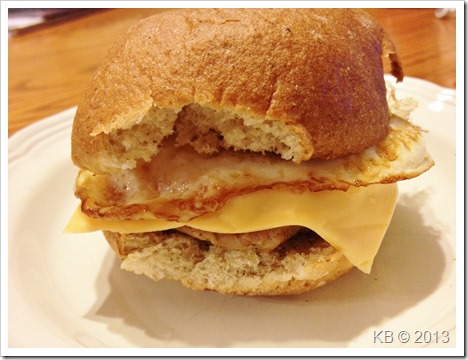 Protein-Packed Breakfast Sandwich

1 al fresco chicken sausage breakfast patty
1 fried egg
1 slice American cheese
1 gluten-free bun (Udi's Whole Grain)

1.  Warm sausage patty in a frying pan or microwave according to package directions

2.  Fry the egg so the yolk is to your liking – more firm = less mess.

3.  Gently toast the bun.

4.  Assemble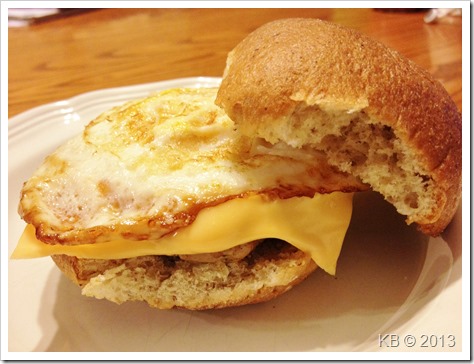 There is just about 26 grams of protein in this breakfast sandwich!  Jon really enjoyed the sandwiches and I felt much better sending him off to school after this breakfast than I do when he eats a bowl full of sugar.  The new al fresco Chicken Sausage Breakfast Patties should be available in May 2013, so keep an eye out for them! 
*The al fresco products in this post were sent to me free of charge for review purposes.  The thoughts and opinions shared here are mine (and Jon's) and have not been influenced by anyone or anything.