Easter is less than a week away now.  What better way to celebrate than with a gluten-free carrot cake?  This cake does take a bit of time to make, but I promise it is well worth it!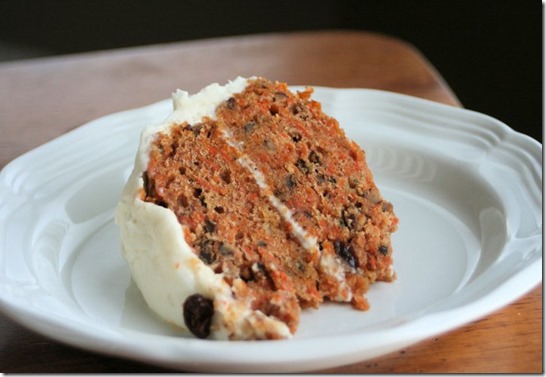 Carrot Cake

**Recipe courtesy of Betty Crocker's New Cookbook, modified to be gluten-free by me

1.5 cups sugar
1/2 cup canola oil
1/2 cup applesauce
1 large egg, 4 egg whites
1 tsp baking soda
1 tsp vanilla
1/2 tsp salt
1/4 tsp ground nutmeg
3 cups shredded carrots (5-6 medium)
1/2 cup chopped pecans
1/2 cup raisins

Cream Cheese Frosting (recipe to follow)

1.  Preheat oven to 350 degrees.  Spray 2 8 or 9-inch pans with Pam.  **You could use a 13 x 9 inch pan if you like.

2.  Shred the carrots in a food processor (messy job, but so worth it)

3.  Mix sugar, oil, applesauce and eggs in a large bowl until blended and then beat for 1 minute.

4.  Mix in remaining ingredients, except the raisins & nuts.  Beat for 1 minute.

5.  Stir in carrots & nuts and pour into pan or pans.

6.  Bake for 30 – 35 minutes or the round pans or 40 – 45 minutes for the rectangle.

7.  Frost and enjoy!

Cream Cheese Frosting

*****recipe courtesy of the same Betty Crocker cookbook

1 package low-fat cream cheese
1/4 cup of butter (1/2 stick)
2 tsps skim milk
1 tsp vanilla
4 cups powdered sugar

1.  Beat the first 4 ingredients together until smooth.

2.  Start to mix in the powdered sugar a little at a time.  The frosting is ready when it is smooth & spreadable.
So good!