When I first got the call from my doctor that I would need to start following a gluten-free diet, the last thing that crossed my mind was having to check my cosmetics for the presence of gluten.  Seriously?  Didn't I have enough on my plate?  Yes, seriously.  Red Apple Lipstick helps simplify things a little with their gluten-free, paraben-free cosmetics.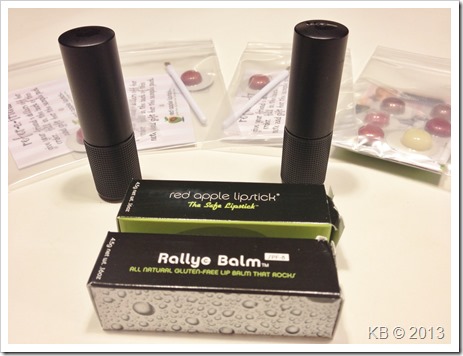 While I had heard about Red Apple Lipstick, I hadn't had the opportunity to try it out until I received some complimentary samples in the mail.  A little more about Red Apple Lipstick:
We help women, especially those with gluten intolerance and other sensitive allergies, feel great, look great, get compliments and enjoy makeup again!

All Red Apple Lipstick products are certified gluten free, paraben free, soy free, dairy free and allergen free. Our lipsticks are also vegan, natural and cruelty free, but you wouldn't know it, unless you asked!
I feel like I always have chapped lips and I found the Rallye Balm really helped!  I really enjoyed the taste and smell of the balm and the Strawberry Lips lipstick.  They have more than just lipstick, they also have eye shadow!
What Are The Benefits Of Being A Red Apple Girl?

1 Trusted Safety – Red Apple is a gluten free makeup company! We started life catering to those who care about the quality of cosmetic ingredients, and how they relate to your health. All products are lab tested, batch tested, and stored like gold in Fort Knox!

2 Awesome Sheens & Finishes – All Red Apple Lipsticks, Glosses and Shadows are made to truly shine! Each one has its own unique sheen and finish, one so awesome, people stop and ask, "What Is It?!"

3 Moisturizes While You Wear It –  All Red Apple Lipsticks, Glosses and Balm are loaded with an all natural, but gluten free source of Vitamin E. This lipstick literally moisturizes while you wear it!

4 Can Be Worn Sheer or Full Bodied-  Red Apple Lipsticks start with a natural mineral base. This unique property allows the lipstick or gloss to be applied sheer with light application. Add a layer or two more, and the color will blossom to exactly the color YOU want.

5 100% Money Back Guarantee –  We understand that shopping online for makeup can be tough. We also know that "pressure" is no fun!! To help things convenient for you, every product is covered by a 100% money back guarantee!

6 Blend Lipsticks – To Make Custom Colors All Red Apple Lipsticks and Glosses are designed to be combined. Blend two lipsticks to create a new color, or blend with a gloss. Imagine always having the perfect color with only a handful of products!

7 Tastes And Smells Nice – Red Apple Lipsticks are designed to be a pleasant experience. No yucky chemical smells, no unnatural parfumes, no chemicals, but instead, a light pleasant smell and taste.

8 Great Looks, Get Compliments – Your everyday beauty enhanced! We truly desire that you feel great, feel confident, and feel beautiful every day of your life, naturally!

9 Stops "Celiac Chapped" Lips – The effects of gluten on your body are widespread, but we know one negative effect of gluten is dry, flaky, painful lips. All Red Apple Lip Products are designed specifically to end "Celiac Chap" once and for all!

10 Great Offers & Great Customer Service –  We know that you love great offers, great deals, great combos of makeup , and to be treated like the wonderful girl that you are. That's exactly how we are going to treat you. Become a member of our VIP club for even more special offers.
The ingredients of all of the Red Apple products are clearly listed on their website. Red Apple Lipstick also offers a "trade-in" program where you can send in a tube of lipstick that you don't like for a discount on one of the many amazing Red Apple Lipsticks.  Pretty cool, huh? 
What is your favorite gluten-free lipstick?  Have you tried Red Apple Lipstick?
*The products reviewed in this blog post were sent to me free of charge for review purposes.  The thoughts and opinions shared here have not bee influenced by anyone or anything.