Back in December I had the chance to sample and review some phenomenal baked goods from Harvard Sweet Boutique.  Aside from the absolutely adorable packaging, the baked goods were out of this world!  More about Harvard Sweet Boutique:
Harvard Sweet Boutique was founded in January, 2007, by Susan George. Her passion for fine baking and recognition of the need for unique gift alternatives helped to mold the idea for the company. Harvard Sweet Boutique has become the indulgence of choice for those who are looking to send the most memorable and sensational gifts.
I am excited to share this amazing recipe for some cookies sure to please all chocoholics!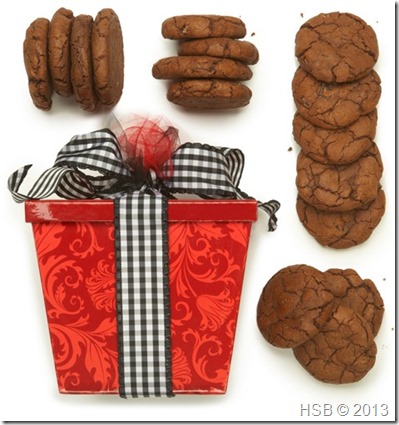 Gluten Free Chocolate Toffee Cookies (from Sue George, owner of Harvard Sweet Boutique)

Yield: 35-40 cookies

Ingredients:

1/4 cup unsalted butter
1 pound good quality bittersweet chocolate (not unsweetened)
1 ¾ cups light brown sugar (packed)
4 large eggs
1 tablespoon vanilla extract
3 tablespoons coconut flour
3 tablespoons brown rice flour
2 tablespoons tapioca flour
1/4 teaspoon xanthan gum
1/4 teaspoon salt
1 teaspoon baking powder
9 ounces (6 bars) chocolate-covered toffee bars (such as Skor or Heath), coarsely chopped

Directions:

1. In a double boiler set over simmering water, melt butter in the top of the double boiler. Once the butter is melted, turn off heat and stir in chocolate. When completely melted and smooth, remove from heat and cool to room temperature.

2. In a medium mixing bowl, beat sugar and eggs until well mixed; about 2-3 minutes. Beat in chocolate/butter mixture then add vanilla.

3. In a small mixing bowl, mix coconut flour, brown rice flour, tapioca flour, xanthan gum, salt and baking powder until combined.

4. Stir flour mixture into the sugar/chocolate mixture then add toffee; do not over mix.

5. Chill batter until firm; about 30-45 minutes.

6. Preheat oven to 350°F. Line 2 large baking sheets with parchment paper. Drop batter using 1/8 cupful's, spacing cookies about 2 inches apart.

7. Bake just until tops are dry and a little crackled but cookies are still soft to touch; about 10 minutes.
I don't know about you, but I see a baking day in my near future!  Perhaps I'll bake a batch for some post-race treats on Sunday!