Who doesn't like a cheesy, gooey grilled cheese sandwich?  You may choose to stick with the childhood favorite basic version or venture into more gourmet versions.  There is no better way to celebrate National Grilled Cheese Day – April 12th – so here was my lunch: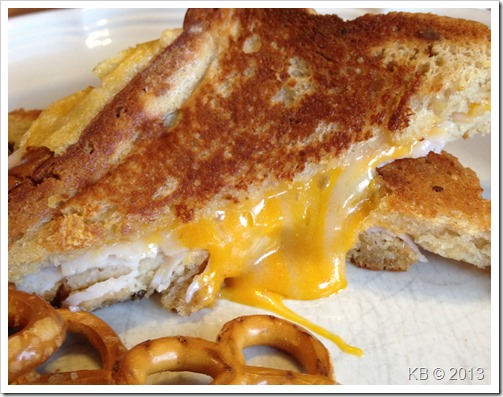 I had plans to make a Caprese Style Grilled Cheese sandwich, but the basil I bought yesterday had other ideas.  Fortunately I had the ingredients on hand to make a quick change and tossed together a Grilled Turkey & Cheese sandwich using GO Veggie Mexican Style Shreds.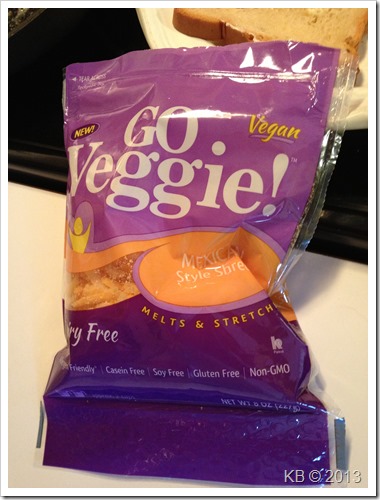 I spread some non-dairy butter spread on my gluten-free bread (Rudi's Gluten-Free Whole Grain), placed the first piece into the pan and quickly assembled the sandwich so it would get hot and melty on the inside.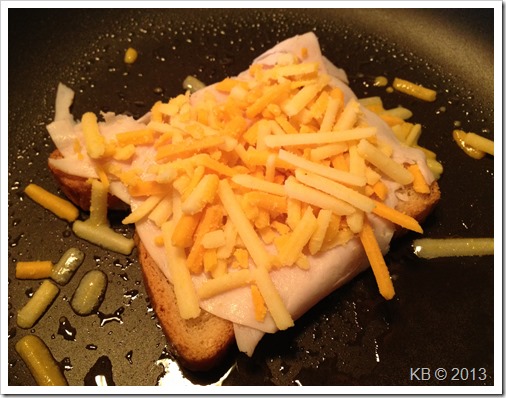 Just a little messy…those stray pieces of cheese got crispy and were a nice bonus treat!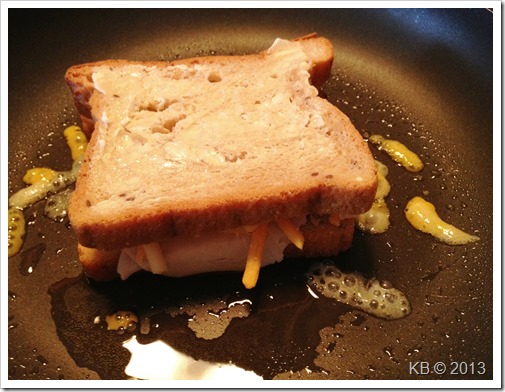 The sandwich took less than 10 minutes from start to finish.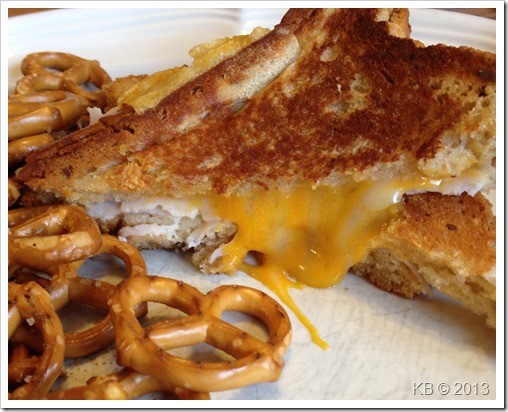 Do you see that melty, gooey cheese?  This was one of the best grilled cheese sandwiches I have had in a long time!  More about GO Veggie Mexican Style Shreds:
Allergen Information:
THIS PRODUCT DOES NOT CONTAIN MILK, EGGS, PEANUTS, TREE NUTS, FISH, SHELLFISH, WHEAT, SOY

Ingredients: WATER, CANOLA OIL,* CORNSTARCH,* VEGETABLE GLYCERINE,* ARROWROOT STARCH,* TRICALCIUM PHOSPHATE, PEA PROTEIN,* SALT, NATURAL VEGAN FLAVORS,* RICE MALTODEXTRIN,* LACTIC ACID (NON-DAIRY), SUNFLOWER LECITHIN,* XANTHAN GUM,* ANNATTO* (COLOR), POWDERED CELLULOSE* ADDED TO PREVENT CAKING. *NON-GMO
If you are looking for a more grown up grilled cheese, check out the recipe for the Caprese Style Grilled Cheese, doesn't it look awesome?
(source)
So, do I have you drooling yet?  Perhaps a little Friday night grilled cheese action?  GO Veggie Cheese can found in many stores across the US. 
Do you like grilled cheese?  What is your favorite grilled cheese sandwich recipe?
*The samples of GO Veggie Cheese were sent to me free of charge for review purposes.  The thoughts and opinions shared here are mine and have not been influenced by anyone or anything.