When I was growing up I really disliked all things coconut.  I may even go as far to say that I hated coconut, though I don't like to use the word "hate".  As we grow, our tastes change, just as our bodies do.  Along with coconut, I didn't like peanut butter or hamburgers.  I was an odd bird who preferred jelly and butter (don't knock it until you try it) sandwiches or toast or McDonald's Fish Sandwiches.  Once I discovered the Girl Scouts and their Samoa (Carmel DeLite) cookies, all bets were off.  If you know the cookie, you know that coconut is one of the main ingredients.  I began to make exceptions and if coconut came in the form of a Samoa, it was all right in my book.
Blue Monkey has just introduced new Coconut Chips snack to their line-up.  The naturally gluten-free, sweet, crunchy chips are packed with fiber and are reminiscent of that now off limits Girl Scout cookie.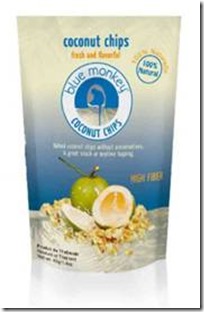 More about Blue Monkey Coconut Chips:
Nearly 50% of Americans snack at least two times a day, almost double those who snacked in 2010, according to California Snacks and Snack Food Stats. Designed to offer an alternative to typical snacking fare, family-owned Blue Monkey™ Coconut Collection introduces coconut chips, a delicious snack with a punch of dietary health.

Available in unsweetened, ginger and wasabi flavors, the Blue Monkey Coconut Chips are a great source of heart-healthy fiber (packing in a solid seven grams per serving!), 100% natural, baked free of preservatives, and lightly sweetened with coconut nectar sugar and non-GMO cane sugar.

The chips are made from the nutrient-rich copra, or meat of the coconut. The meat is sliced out of mature coconuts grown in Thailand and the Philippines and then gently baked to bring out its natural sweetness and turn it from white to golden brown.

"Coconut meat is often called the king of foods," shared Simon Ginsberg, Blue Monkey founder. "With its wonderful texture and rich nutritional makeup, we couldn't agree more."

Salty, sweet, crispy, and luscious with coconut fat, Blue Monkey Coconut Chips are great on their own or eaten alongside a meal. Pair with some cold grilled chicken and fresh and raw veggies, mix them into a salad or trail mix, or sprinkle the chips on top of yogurt, ice cream, cereal and oatmeal or savory dishes like coconut curry or coconut-almond green beans. The coconut chips are also great for enhancing baked goods.
I opened the bag of Coconut Chips not knowing what to think.  I instantly fell in love!  The thin, crisp pieces of coconut are amazing!  Each piece is crisp with a sweet crunch and instantly brought me back to the days of the Girl Scout Samoas, though there is no caramel or chocolate.
I also sampled the Blue Monkey Coconut Water and Coconut Water with Pulp.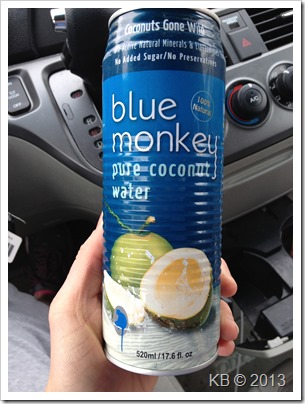 I loved the Pure Coconut Water, but was not a fan of the Coconut Water with Pulp.  The flavor was good, but I couldn't get past the thick pulp.  I am sure there is someone out there who will love this!  Coconut water is great for hydration, especially during the hot and humid summers we have here in Ohio.
The Blue Monkey Coconut Chips are packed in a 1.4oz recyclable bag and will be available at natural and mainstream markets nationwide throughout the U.S. and Canada and online at Amazon.com for an SRP of $2.89 this spring.
Do you like coconut water?
*These samples were sent to me free of charge for review purposes.  The thoughts and opinions shared here are mine and have not been influenced by anyone or anything.