KIND Snacks is introducing two new bars to their Nut & Spices line just in time for Celiac Disease Awareness Month.  I have been a fan of KIND Bars for almost as long as I have been on the gluten-free diet. The Nuts & Spices line bars are "each seemingly indulgent recipe provides all natural protein, fiber and only 5g of sugar (or less). And nothing artificial."
The two new flavors…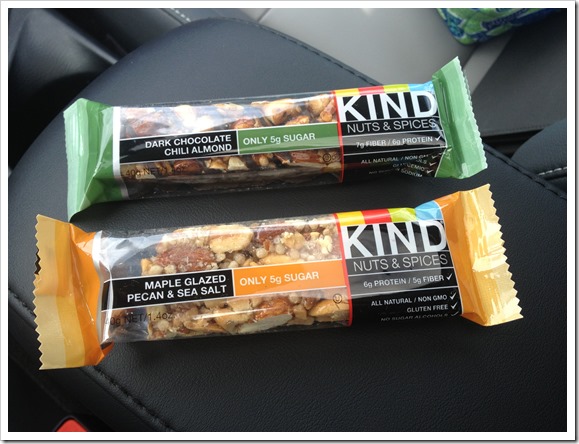 Dark Chocolate Chili Almond – 200 calories, 6 grams protein, 7 grams fiber (contains dairy)

Maple Glazed Pecan & Sea Salt – 210 calories, 6 grams protein, 7 grams fiber
I am absolutely loving these new flavor combinations!  Sweet and spicy!  Sweet and salty!  YUM!  I received several samples of each variety and shared the KIND Bar love with some local gluten-free friends and some non-gluten-free friends to help spread Celiac Disease Awareness.  Everyone raved about the bars!  Gluten-free doesn't have to be taste or flavor-free!
All of the Kind Snacks are gluten-free and "are tested for gluten and meet FDA's proposed requirement of 20ppm (0.002%) of gluten. Our manufacturing plant is dedicated gluten free and has a strict allergen control program."
KIND Bars can be purchased in the KIND Store online, on Amazon.com and in local stores across the US. The newest flavors may not hit retail shelves until June, so try to be patient.
Do you have a favorite KIND bar?  Which of the new bars is most appealing to you?
*These bars were sent to me free of charge for review purposes.  The thoughts and opinions shared here are mine and have not been influenced by anyone or anything.