Good morning blog land!  Hope you all had a wonderful weekend.  I just got back from a humid run with Melissa and am ready to start my day.  I finally located the brand new Pillsbury Gluten-Free Refrigerated Doughs at Giant Eagle last week after a little hunt.  Not all Giant Eagle stores have the products on their shelves yet, so I had to hit a couple stores before I finally found them.  In the Columbus area: 650 North State Street in Westerville did not have the products yet, but I did speak with the manager and she was going to see about getting the products in soon.  The Polaris Giant Eagle at 55 Meadow Park Drive did have all 3 products.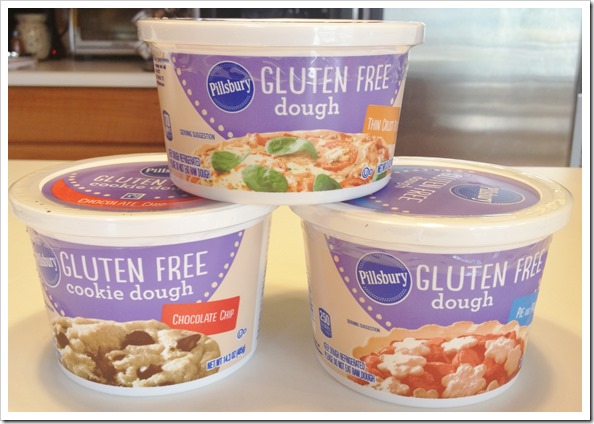 You can read my review of the cookies here.  Watch for the reviews of the pizza and pie doughs later this week.
---
Weekly Menu
Monday – Quinoa Mac & Cheese, peas and salad
Tuesday – Easy Enchilada Bake, corn and salad
Wednesday – BBQ Pulled Pork sandwiches, Boulder Canyon Kettle Chips and salad
Thursday – Make your own pizza and salad (Using the Pillsbury GF Dough)
Friday – Take out
Saturday – Burgers on the grill, baked potato packets and salad
---
Weekly Recap
Perdue Simply Smart Gluten-Free Breaded Chicken Tenders
Wellaby's Mini Cheese Crackers
Chex adds a new variety to their gluten-free cereal line-up!
Nature's Path Chia Plus Waffles
For the love of Brooks – My love affair with my running shoes.
Have a great week!
Kim