Yesterday morning I sat at my laptop and cranked out a few blog posts, including this "Wordless Wednesday" post, only to realize a few hours later that it wasn't Wednesday.  Nope, it was only Tuesday.  I guess I was really excited to get that post up, huh?  That or maybe I am in a rain-induced funk since it has rained every day for the past 16 days here. 
I recently reached out to Sunwarrior for samples of their Warrior Blend protein powder.  In my never-ending quest to defeat ED (eating disorder) and properly recover from my workouts, I needed a product that I could use daily that was kind to my digestive system.  They sent me samples of the three different Warrior Blend varieties:
Natural
Vanilla
Chocolate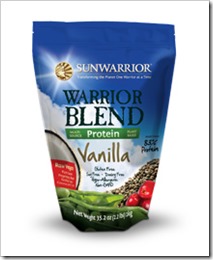 More about Warrior Blend:
Warrior Blend fuses and multiplies the power of several rich protein sources into a smooth, great tasting, and revolutionary proprietary formula that is overwhelmingly superior to the individual components alone. This dynamic fusion, along with a cold extraction process, creates a unique, raw, plant-based protein with a complete amino acid profile exceptionally high in Arginine, Lysine, Leucine, and branched chain amino acids.

Contains all essential amino acids in a complete, balanced profile
One of the best protein powders for any lifestyle, not just vegan or vegetarian
Free of solvents, GMOs, radiation, artificial flavors, artificial preservatives, or artificial colors
Contains no animal products, dairy, egg, gluten, soy, added sugar, wheat, or yeast
Great source of energy
No cholesterol
Heart healthy
Increases metabolism to burn fat while building muscle
Easy to digest and creates a feeling of satiety (fullness)
Promotes healthy kidney and liver functions
A green, hypoallergenic food
Improves mental clarity
Helps relieve candida
I thoroughly enjoyed all of the varieties, though the Natural is best used in baking or a smoothie.  I went ahead and ordered the small bag of the Chocolate Warrior Blend am couldn't be happier with it!  I mix 1 scoop of the powder into 8-10 oz of Silk Pure Almond and shake.  I did learn early on that the little metal ball that comes with the shaker container is very important – not using it produces a shake with big chunks.  I have had no digestive issues related to the Warrior Blend (HUGE!) and I just ordered another bag! 
Another big hurdle for me to jump over is not feeling hungry after a workout.  Drinking a protein shake on the way home or just before I hop in the shower is mindless and relatively easy.  The road to a successful recovery requires steps in the right direction and I have been making those with products like this protein powder.  The Warrior Blend has also served as a protein boost on non-workout days when I haven't quite met my protein requirements for the day. 
I am not going to lie, the Warrior Blend protein powder is not cheap, but I have found the best price on Amazon.com.  The price seems to fluctuate – today is is $23.40/1.1 lb bag, but when I ordered last week, it was $21.99/1.1 lb bag.  I view the price as an investment in my health.  Sure it would be nice to use that money towards a new pair of running shoes, but after struggling to find something that works for me, I know I have made the best choice for me. 
*I received 3, single-serve packets of the Warrior Blend protein powder from Sunwarrior to sample and review.  I have since purchased their products on Amazon.com.  The thoughts and opinions shared in this post are mine and have not been influenced by anyone or anything.