Yesterday was one of those days.  You know, those days when you have only slept half of the hours your normally sleep?  One of those days when even the most mundane tasks seem daunting.  It took every bit of energy I had to get to the grocery store for many items that we couldn't go without.  I was rewarded for my "hard" work with this gem…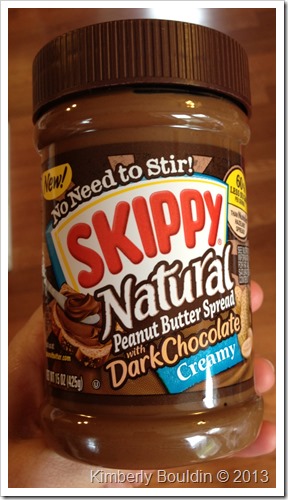 Dark chocolate + peanut butter = heaven!  As soon as I put this baby in my cart I knew what I was having for lunch – dessert!  LOL!  No, in all seriousness, I made a PB & J with the new Dark Chocolate Skippy Natural.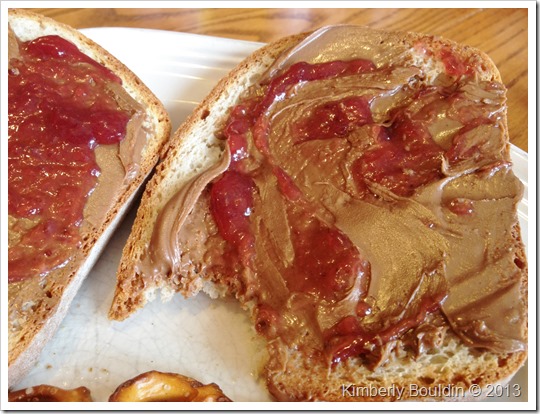 I was too impatient to wait for the bread too cool after I toasted it, so it was more like PB & J toast, or an open-faced sandwich.  I love Nutella, but think it is too sweet for a sandwich.  The new Dark Chocolate Skippy Natural has 60% less sugar per serving than Nutella, making it the perfect choice for breakfast or lunch. 
Dark Chocolate Skippy Natural: Sugars – 8g

Nutella: Sugars – 21g

Dark Chocolate Skippy Natural Ingredients: Peanut Butter Spread (Roasted Peanuts, Palm Oil, Salt), Sugar, Dark Chocolate (Sugar, Unsweetened Chocolate, Cocoa Butter, Soy Lecithin, Vanilla Extract), Cocoa.
I really enjoyed the taste of the new Skippy!  I can't wait to try the new Skippy on apples and bananas!  YUM! 
What is your favorite peanut butter brand? 
What is your favorite way to eat peanut butter?