Glutino's timing of their new Gluten-Free Pantry Instant Baking Mix is impeccable.  School starts tomorrow and that means crazy early mornings.  I am hoping that the smell of these pancakes will help me wake the kids from their beds and get them fueled up and ready to learn.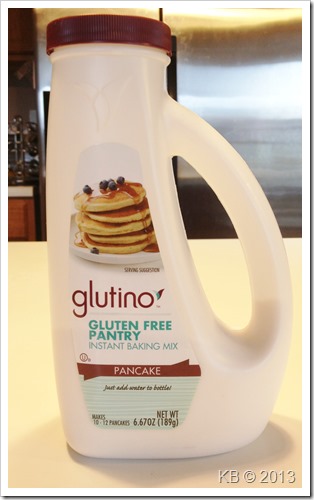 The new mix comes in a handy bottle that allows you to mix the water right into the mix.  Once the batter is ready to go, simply pour onto the hot griddle in 3-inch circles.  Don't need the whole package (10-12 pancakes) made at once?  No biggie, store in the refrigerator for up to four days.  How cool is that? 
INGREDIENTS: BROWN RICE FLOUR, WHITE RICE FLOUR, SKIM MILK POWDER, SAFFLOWER MIX (SAFLOWER OIL WITH TOCOPHEROLS, NONFAT MILK, DISODIUM PHOSPHATE, NATURAL FLAVOR), SUGAR, EGGS, BAKING POWDER (SODIUM ACID PYROPHOSPHATE, SODIUM BICARBONATE, CORN STARCH, MONOCALCIUM PHOSPHATE, CALCIUM SULFATE), SALT, XANTHAN GUM.
I knew right away that these would be in a hit in our house.  There aren't many foods that we all like, but pancakes happen to be one of those foods.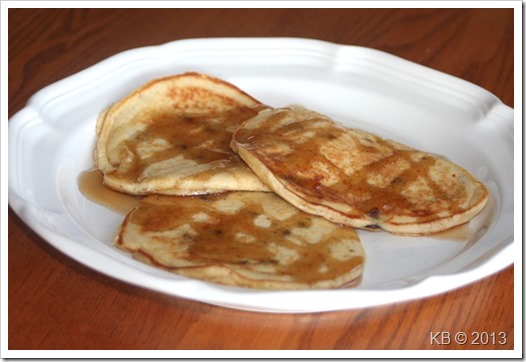 I like to toss some chocolate chips on top of the pancake batter before I flip them on the griddle.  This allows the chips to get chocolaty and gooey right before they are served. It also allows for each person to choose their add-ins, if any. 
Glutino Gluten-Free Pantry Instant Baking Mix can be found in stores across the US.  What is your favorite way to eat pancakes? 
*The products mentioned in this blog post were sent to me free of charge as a part of the Very Important Gluten-Free Blogger Program.  The thoughts and opinions shared here are mine and have not been influenced by anyone or anything.