School has started and we are in the last week of summer.  Labor Day weekend is upon us, though the temps feel more like mid-July than they do heading into September.  I am getting busier in the evenings with personal training clients (YAY!), so menu planning and keeping my calendar organized is becoming an absolute necessity. 

Thankfully my brand new Samsung Galaxy Tab 2 10.1 is just the perfect device to help me manage all of the above.  The calendar app syncs with my Google Calendar, which also has the personal training studio calendar integrated, for constant access to my "life".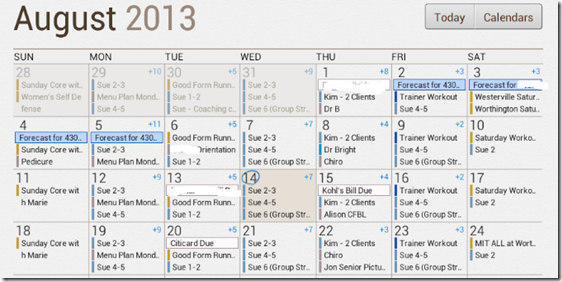 Here is a quick glimpse of how the calendar is filled in.  I can select different options to show the year, month, week, day, list or task.  The same calendar can be accessed and edited by my Droid Razr HD if I need to make a change in a hurry.  While it is hard for me to get rid of my schedule book completely, and I still carry it as a back-up for now, I really like that when I add an appointment, or make a change, it is shown on all devices.  One of these days soon I will ditch that schedule book.
Another fabulous feature of the Samsung Galaxy Tab 2 10.1 is the 4G service.  Having the 4G service allows me to access PayPal (to accept payments from clients who wish to pay via credit card) even if WiFi is not available. 
*Disclosure: I am participating in the Verizon Health and Fitness Voices program and have been provided with a wireless device, FitBit One, Verizon Gift Card, Samsung Galaxy 2 10.1 and six months of service in exchange for my honest opinions about the products.
---
Menu
Monday – Tyson Gluten-Free chicken fingers, baked steak fries, salad
Tuesday – Tacos, black beans, corn and salad
Wednesday- Grilled Italian chicken breast, brown rice pasta, broccoli and salad
Thursday – Burgers, sweet potato fries and salad
Friday – Pizza with Pillsbury GF dough and salad
Saturday – Take-out
---
Weekly Recap
Recipe: Gluten-Free Beef Pot Pie
NFCA Webinar: Understanding the FDA's Gluten-Free Labeling Rule: What you need to know.
Cheating on the Gluten-Free Diet
Have a great week!
Kim