Welcome to the middle of September.  Last week we had the hottest day of the year on Tuesday and then woke up to temps in the low 40s on Saturday (gloves were needed on our run!).  Mother Nature sure seems to be a bit bipolar these days, huh?  If I could choose, I would choose 45 and crisp every morning and mid-70s during the day.  If only, right?
Fall is my favorite season and there is no better way to welcome the season than with Pumpkin Spice coffee.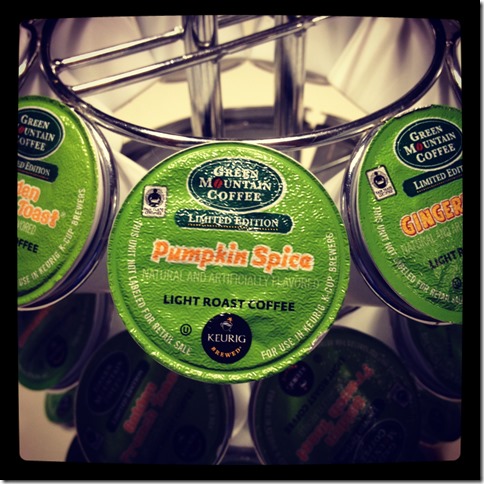 ---
Menu
Monday – Chicken fingers, baked steak fries and salad
Tuesday – Lasagna and salad
Wednesday – Leftovers
Thursday – Taco salads – ground beef, black beans, corn, tomatoes, cheese and tortilla chips
Friday – Pizza and salad
Saturday – Take-out
---
Weekly Recap
My list of favorite pumpkin recipes
Review: Tastefully Simple Gluten-Free Brownie Mix
Review: Tastefully Simple Gluten-Free Vanilla Bean Pound Cake Mix
Kinnikinnick Pumpkin Spice Donuts are Back!
Review: Gluten-Free Ronzoni Pasta
Have a great week!
Kim